FISH FILLET ON POMODORO PASTA RECIPE
AJI-NO-MOTO® UMAMI SEASONING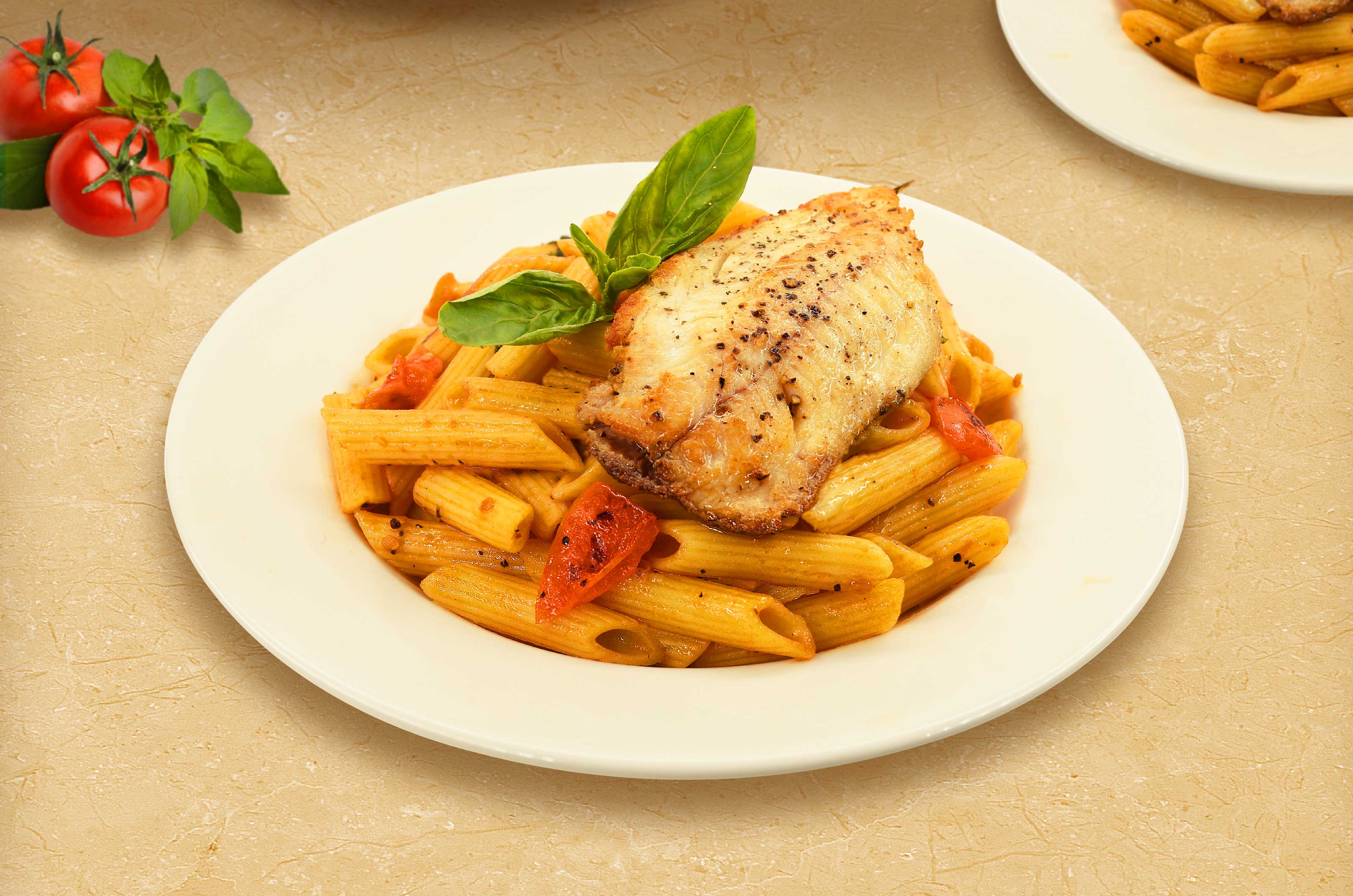 Ingredients
6 pieces (350 grams) Fish Fillet (Tilapia)
1 teaspoon (5 grams) Salt
1/2 teaspoon (2.50 grams) Ground black pepper
8 teaspoons (40 ml) Cooking Oil
1/2 cup (80 grams) Onion, minced
2 tablespoons (20 grams) Garlic, minced
3/4 kilo (750 grams) Tomato, diced
1 pack (11 grams) AJI-NO-MOTO® Umami Seasoning
2 tablespoons (30 ml) Fish sauce
1/4 teaspoon (1.25 grams) Ground black pepper
1/2 cup (125 ml) Water
7 cups (1000 grams) Penne pasta, cooked
1 cup (20 grams) Basil leaves
NUTRITION INFORMATION
Nutrition Facts
Calories per serving (kcal)
419.6
Carbohydrates (g)
70.7
Proteins (g)
17.1
Fat (g)
7.4
Dietary Fiber (g)
5.6
Calcium (mg)
99.9
Iron (mg)
3.8
Sodium (mg)
857.8
Good to Know Nutrition Facts!
> Low Fat Meal Set: Banana + Fish Fillet Pomodoro Pasta
> This pasta dish is low in fat and cholesterol, but high in lycopene which are all helpful for maintaining a good heart health.
Preparation time: 10 minutes
Cooking time: 30 minutes
Procedure
SEASON. Season the fish fillets with salt and pepper. Set aside in the chiller for at least 15 minutes.
SEAR. In a hot pot, pour oil and sear the fish fillet until slightly brown. Set aside.
SAUTÉ. In the same pan, sauté onion, garlic and tomatoes. Cook until tomatoes are soft.
SEASON. Add AJI-NO-MOTO®, fish sauce and pepper.
SIMMER. Add water and let it simmer for 2-3 minutes.
TOSS AND SERVE. Add the Penne Pasta and toss completely. Add the basil leaves and continue tossing for 1 minute. Serve
Makes 6 servings
Serving size: 1 cup Pasta and 1 piece Fish Fillet
187 grams (127 grams Pasta, 60 grams fish fillet)
Cooking Tips
Fish Fillets can also be pan grilled instead of searing.
Product Used