PORK AFRITADA RECIPE
AJI-NO-MOTO® UMAMI SEASONING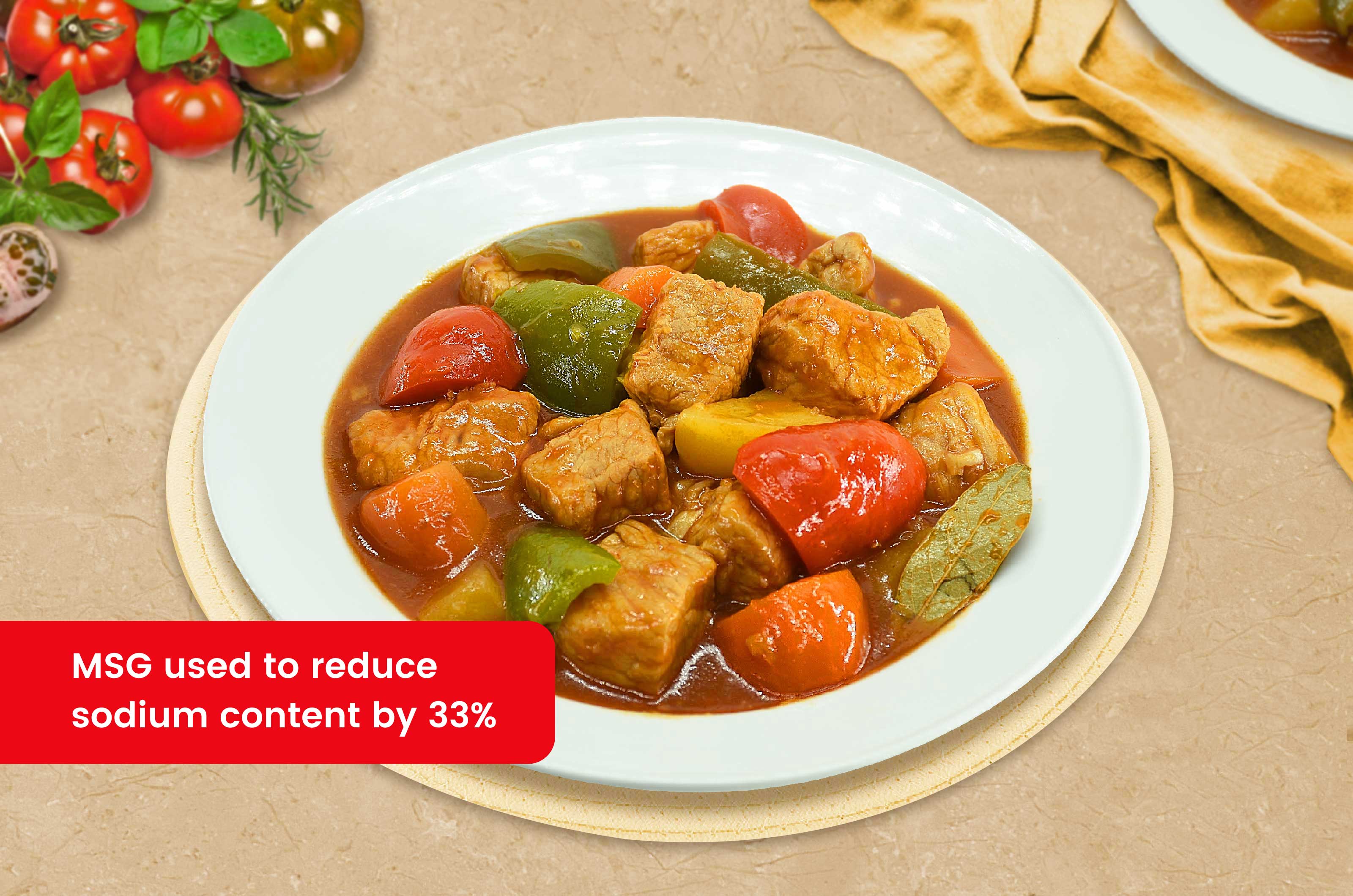 Ingredients
3 tablespoons (45ml) Cooking oil
1/3 cup (42g) Onion, chopped
2 tablespoons (30g) Garlic, crushed
1 kilo (1000g) Pork, Afritada cut
1 cup (250ml) Tomato sauce
2 cups (500ml) Water
1-2 pieces (1g) Bay leaves, crushed
1 cup (163g) Potatoes, cubed
1 cup (250g) Carrots, cubed
1/2 cup (44g) Red bell pepper, sliced
1/2 cup (44g) Green bell pepper, sliced
1/2 pack (6g) AJI-NO-MOTO® Umami Seasoning
2 teaspoons (10ml) Fish sauce
1/8 teaspoon (0.25g) Pepper
Reduced sodium by 33%
Original sodium content: 4 Tablespoons (60 ml) Fish sauce
NUTRITION INFORMATION
Nutrition Facts
Calories per serving (kcal)
365.3
Carbohydrates (g)
9.8
Proteins (g)
18.7
Fat (g)
27.9
Dietary Fiber (g)
1.5
Calcium (mg)
67.9
Iron (mg)
2.4
Sodium (mg)
358.9
Good to Know Nutrition Facts!
Pork Afritada has tomato sauce which is rich in Vitamin A that is important to eye sight's health, reproduction and fetal development. It is also a good source of Lycopene that is beneficial to heart health .
Preparation time: 10 minutes
Cooking time: 30 minutes
Procedure
SAUTÉ. In a pan, heat oil , sauté onion and garlic. Add pork and sauté until light brown.
BOIL & SIMMER. Pour tomato sauce and water and let it boil. Add bay leaves and cook in medium heat for 20 minutes or until pork gets tender. You can add water if needed. Add potatoes,carrots and cook for 5 minutes. Add bell peppers and simmer for a few minutes.
SEASON & SIMMER. Sprinkle half pack of AJI-NO-MOTO®, add fish sauce and pepper. Mix well and simmer for 1 minute. Turn off fire.
SERVE. Transfer on a serving bowl and serve hot.
Makes 10 servings
Serving size: 3/4 cup (136 g)
Cooking Tips
Never buy meat that has foul smell and pale in color, it indicates that is no longer safe for consumption.
Product Used