Pork and Beans Lettuce Cup
AJINOMOTO® BRAND GINISA FLAVOR SEASONING MIX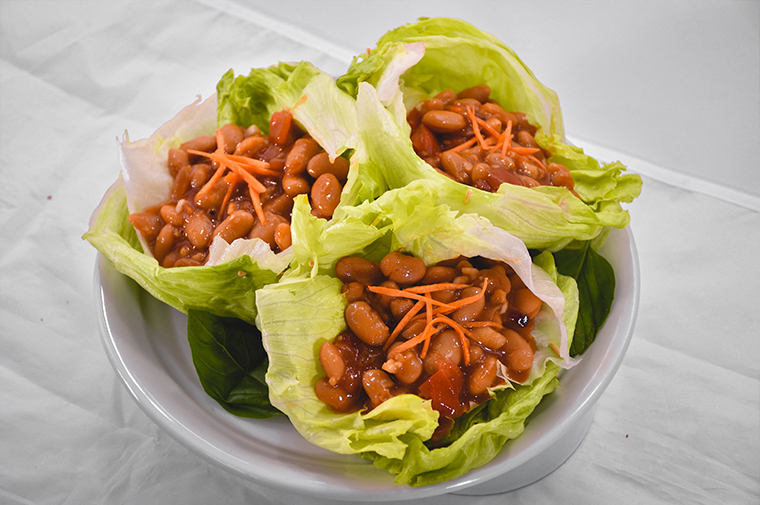 Ingredients
2 tablespoons (30 ml) Oil, cooking
2 tablespoons (30 grams) Onion, red, minced
2 tablespoons (30 grams) Garlic, minced
2 cans (780 grams) Pork and Beans, canned
1/2 cup (90 grams) Tomatoes, small cubes
1/4 teaspoon (1 gram) Curry, powder
1 tablespoon (18 ml) Hot Sauce
1/4 cup (68 grams) Mayonnaise, real
1 pack (7 grams) AJI-GINISA® Flavor Seasoning Mix
1/4 cup (45 grams) Carrots, thin strips
2 cups (120 grams) Lettuce, Iceberg, washed
NUTRITION INFORMATION
Nutrition Facts
Calories per serving
212.8 Calories
Carbohydrates (g)
20.3 grams
Proteins (g)
5.4 grams
Fat (g)
12.3 grams
Dietary Fiber (g)
5.1 gram
Calcium m(g)
85.3 milligrams
Iron (mg)
2.5 milligrams
Sodium (mg)
615 milligrams
Good to Know Nutrition Facts!
Although low in fiber, lettuce is high in minerals,  such as calcium, phosphorous, magnesium, and potassium.   It's naturally low in sodium. Plus, lettuce is packed with vitamin C, vitamin K, and folate. (USDA)
Preparation
Makes: 8 servings
Procedure:

SAUTE onion and garlic. Cook until fragrant.
ADD pork and beans, tomatoes, AJI-GINISA® Flavor Seasoning Mix and curry powder. Cook until reduced. Set aside.
MIX hot sauce and mayonnaise then set aside.
ARRANGE lettuce leaves on a plate. Top with pork and beans mixture and carrots. Drizzle
SERVE with mayo – hot sauce dressing and enjoy.
Cost
Recipe Cost: Php 175.2
Cost per Serving: Php 21.50
Cooking Tips
Do not over cook the beans so as to avoid "paste-looking " mixture.
Product Used