PORK HAMONADO
PORKSAVOR® ALL-IN-ONE SEASONING MIX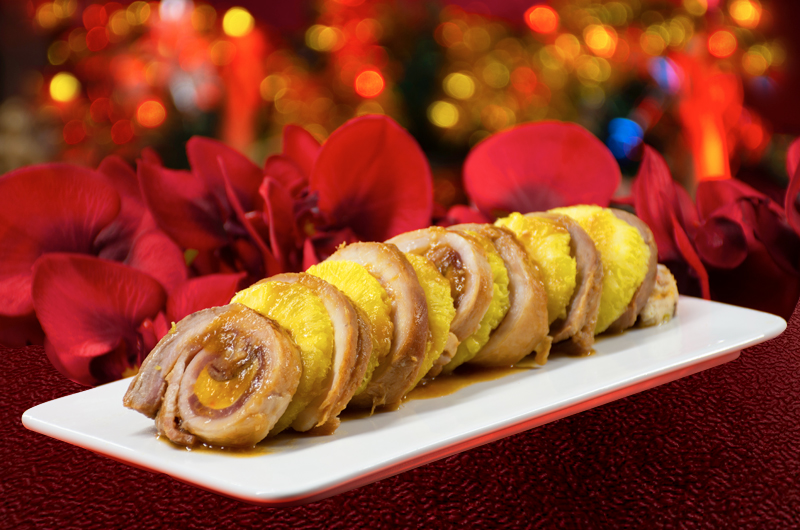 Ingredients
4 slices 800g Pork Loin, sliced
1 cup 250g Brown Sugar
2 cups 500ml Pineapple Juice
1/4 cup 60ml Soy Sauce
1 cup 250ml Lime Soda
2 packs 16g Porksavor® All-in-One Seasoning Mix
1 cup 120g Bacon
4 slices 60g Chorizo, halved
1/2 cup 80g Salted Egg, wedges
12 pcs 240g Pineapple
3 Tbsps 45ml Cooking Oil
NUTRITION INFORMATION
Nutrition Facts
Calories per serving
621.9 Calories
Carbohydrates (g)
36.8 grams
Proteins (g)
12.3 grams
Fat (g)
47.3 grams
Dietary Fiber (g)
0.9 gram
Calcium m(g)
66.6 milligrams
Iron (mg)
1.2 milligrams
Sodium (mg)
536.3 milligrams
Good to Know Nutrition Facts!
Pineapple are good source of Vitamins and Minerals. It also helps tenderize the meat.
Preparation
Makes: 12 servings
Procedure:

1.MARINATE. Rub Pork Loin with Brown Sugar. In a bowl, mix pineapple juice, soy sauce, lime soda, and Porksavor® All-in-One Seasoning Mix. Marinate Pork Loin for at least 1 hour.
2. ROLL. On a countertop, place pork loin (drained) and top with bacon, chorizo, and salted egg. Roll pork loin tightly. Secure it with kitchen twine.
3. CHILL. Place rolls in a refrigerator to chill and firm it up.
4. SIMMER. Place marinade on a pan and simmer for 5 minutes. Place rolls and continue cooking in low fire for 1 hour or until pork is tender.
5.SERVE. Serve and enjoy.
Cost
Recipe Cost: Php 610.08
Cost per Serving: Php 50.84
Cooking Tips
Cook Hamonado in low fire to avoid getting burnt and dry.
Product Used