PORK STIR FRY WITH BLACK BEAN SAUCE RECIPE
AJINOMOTO® BRAND GINISA FLAVOR SEASONING MIX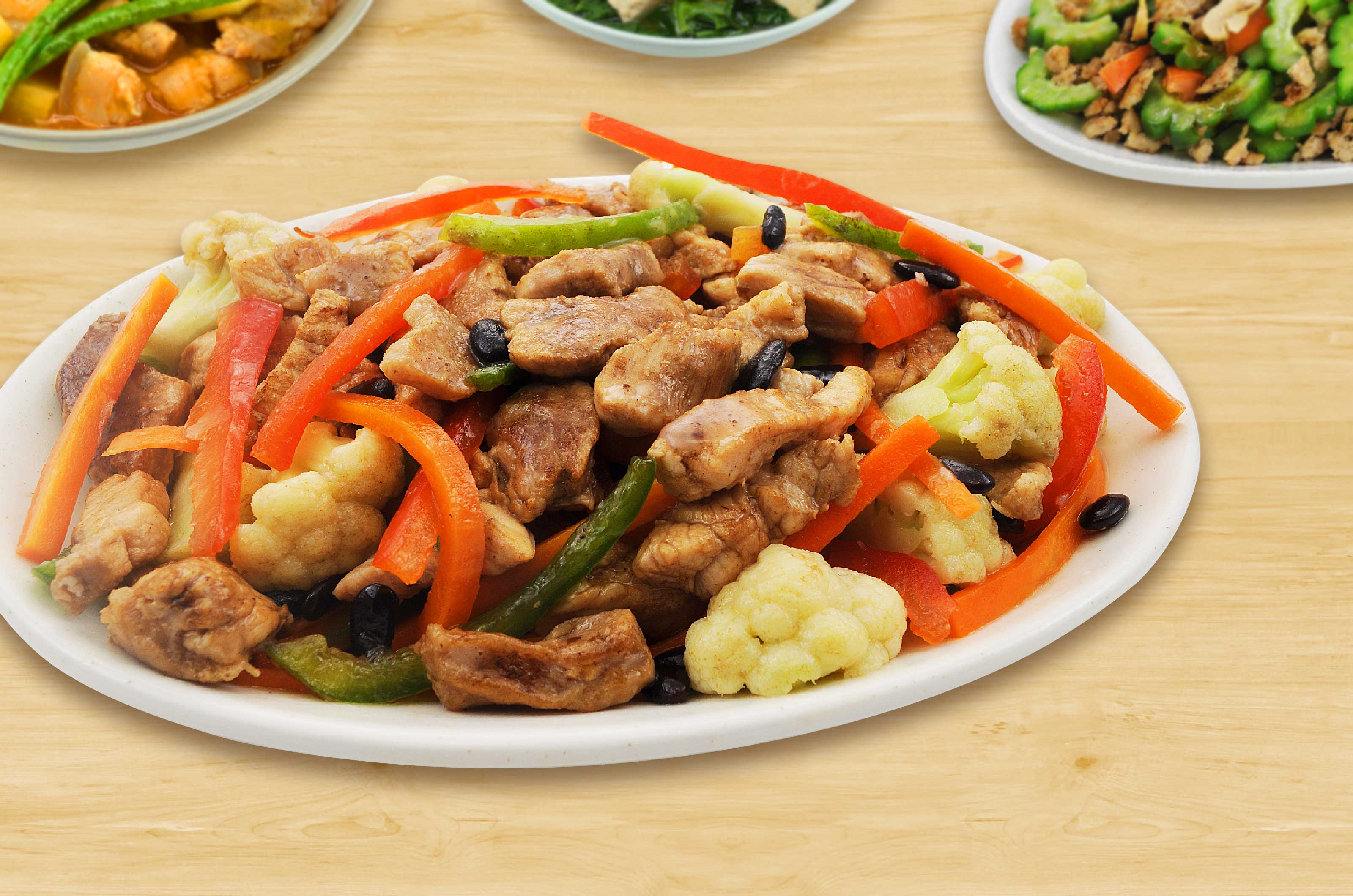 Ingredients
1 Tbsp (15ml) cooking oil
1/3 kilo (300g) pork, strips
1 tsp (5ml) soy sauce
1/4 cup (30g) onion, sliced
4 cloves (8g) garlic, minced
1 cup (200g) cauliflower, florets
1 cup (100g) carrot, strips
1 cup (100g) green bell pepper, strips
1 cup (100g) red bell pepper, strips
11/2 tsp (7.5g) tausi (black bean sauce)
1 pack (7g) AJI-GINISA® Flavor Seasoning Mix
NUTRITION INFORMATION
Nutrition Facts
Calories per serving (kcal)
255.0
Carbohydrates (g)
8.2
Proteins (g)
12.3
Fat (g)
19.2
Dietary Fiber (g)
3.5
Calcium (mg)
53.7
Iron (mg)
1.7
Sodium (mg)
500.5
Good to Know Nutrition Facts!
The fiber in black beans lessen constipation and bloating.
Preparation time: minutes
Cooking time: minutes
Procedure
STIR-FRY. On a hot wok/pan, add oil and add pork, cook until light brown. Then, season with soy sauce.
ADD onion and garlic and mix well.
ADD cauliflower, carrot, and red and green bell peppers.
COOK until vegetables are al dente.
SEASON. With black bean sauce and AJI-GINISA®. Mix well and serve hot.
Makes 5 servings
Serving size: 1/2 cup (85g)
Cooking Tips
During cooking , mash the back beans lightly to maximize its taste.
Product Used