PULLED PORK SANDWICH RECIPE
SARSAYA® OYSTER SAUCE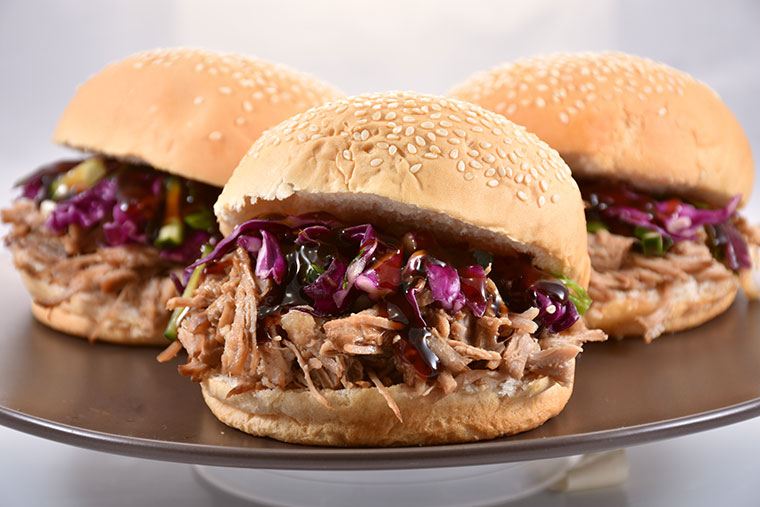 Ingredients
2 tablespoons (30g) Cooking Oil
2 tablespoons (30g) Onion
2 tablespoons (30g) Garlic
3 cups (500g) Pork
2 pack (60g) SARSAYA® Oyster Sauce
1 tablespoon (15g) Soy Sauce
1/4 cup (20g) Vinegar
1 tablespoon (15g) AJINOMOTO® Flavor-Up Season -All Liquid Seasoning
1 cup (60g) Red Cabbage
1 tablespoon (15g) Onion
1/2 cup (50g) Cucumber
2 tablespoons (30g) Lemon
2 tablespoons (30g) Honey
5 pc (56g) Buns
NUTRITION INFORMATION
Nutrition Facts
Calories per serving (kcal)
425
Carbohydrates (g)
 18.9
Proteins (g)
  19.4
Fat (g)
29.9
Dietary Fiber (g)
 1.2
Calcium m(g)
 64
Iron (mg)
2.4
Sodium (mg)
1097.3
Good to Know Nutrition Facts!
Burgers need not always to be all meat. Increase fiber intake by adding more red cabbage, cucumber and tomatoes!
Preparation and Cooking time: 45 minutes
Procedure
SAUTÉ. In a hot pan, pour cooking oil and saute onion, garlic until fragrant. Add pork, SARSAYA® Oyster Sauce, Soy sauce, vinegar, and AJINOMOTO® Flavor-Up Season -All Liquid Seasoning and cooked pork until tender.
MIX the toppings by combining cabbage, onion, cucumber in a large bowl. Add lemon and honey to cabbage and toss well.
WARM up the buns in the toaster then add pulled pork and toppings.
SERVE the assembled sandwich and enjoy.
Makes 5 servings
Serving size: 1pc (56g) Bun, 1/2 cup (100g) Meat, & 3 Tbsps (45g) Vegetables
Cooking Tips
You can also substitute chicken or beef for this dish.
Product Used