Umami Mommy Burger
AJI-NO-MOTO® Umami Seasoning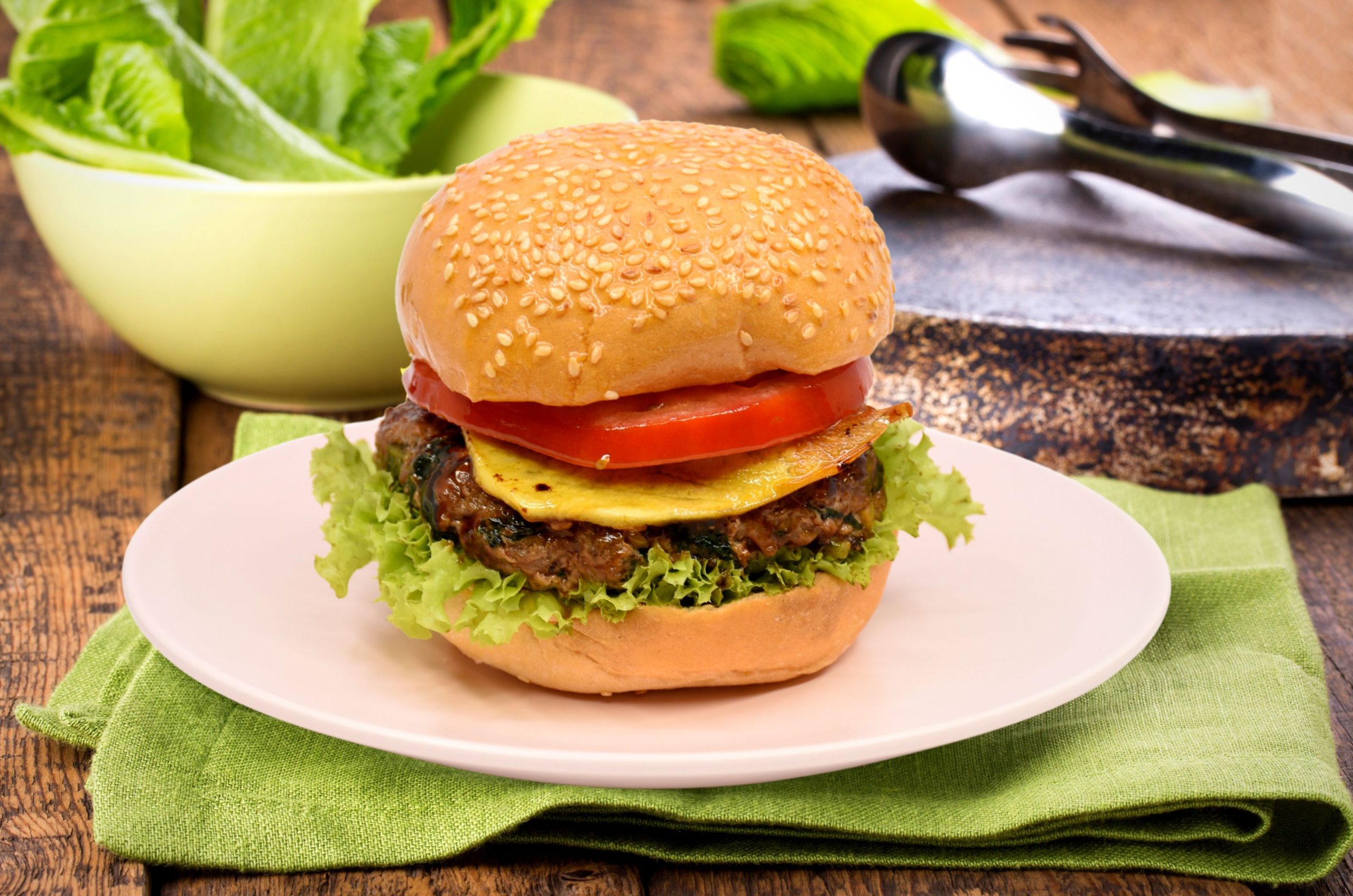 Ingredients
Patty Mixture:
1 tsp. (5 g) Garlic, minced
1/2 tsp. (2.5 g) Coriander Seeds, powder
1/2 Tbsp. (7.5 ml) All-purpose Flour
1/3 cup (10 g) Spinach, blanched, squeezed, chopped
2/3 cup (150 g) Beef, ground
1/8 tsp. (0.625 g) Aji-no-moto® Umami Seasoning
1/16 tsp. (0.4 g) Salt, rock
1/16 tsp. (0.3 g) Pepper, ground

4 slices (33.3 g) Sweet Potato, sliced, grilled
4 slices (33.3 g) Lettuce Romaine, chopped coarsely
4 slices (33.3 g) Tomato, sliced
2 pcs. (150 g) Buns

NUTRITION INFORMATION
Nutrition Facts
Calories per serving (kcal)
445.84
Carbohydrates (g)
48.58
Proteins (g)
21.93
Fat (g)
17.63
Dietary Fiber (g)
3.2
Calcium (mg)
162.67
Iron (mg)
5.03
Sodium (mg)
393.32
Good to Know Nutrition Facts!
This dish is energy and carbohydrate-rich coming from the sweet potatoes and bread that will compensate for energy loss and fatigue of a lactating mother.
Cooking time: 10 minutes
Preparation: 20 minutes
Procedure
MIX. To make a patty mixture, in a bowl, add garlic, coriander seeds, egg, spinach, beef, AJI-NO-MOTO®, salt, and pepper. Mix well then form into patties. Set aside.
GRILL. In a hot griller, cook patties until brown on both sides.Remove from the griller. Drain excess oil using strainer or collander. On the same griller, grill sweet potatoes until slightly charred on both sides. Remove from the griller and set aside.
ASSEMBLE. Add lettuce to one half of the bun, then add the patty, sweet potato and tomatoes. Top with the other half of the bun.
SERVE. Transfer to individual plates. Serve and enjoy.
Makes 2 servings
Serving size: 1 pc. Burger (228.5 g)
Cooking Tips
Blanching the spinach decreases the bitter aftertaste of the vegetable.
Product Used