Roasted Bell Pepper Soup
CHICKENSAVOR™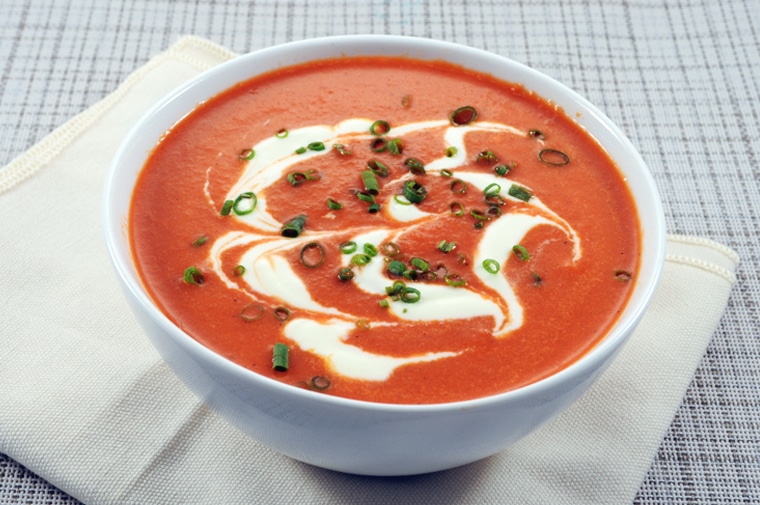 Ingredients
1 tablespoon 15ml cooking oil
1/4 cup 35g garlic, crushed
1/2 cup 70g onion, quartered
500g Red bellpepper, roasted
5 tablespoons 75ml sour cream
2 cups 500ml water
2.5 tablespoons 25g spring onion, minced
2 packs 14g ChickenSavor® Seasoning Mix
to taste pepper
to taste salt
Preparation
Preparation and Cooking Time: 30 minutes Makes: 4-5 servings
Serving size: 3/4 cup (175ml)
Procedure
ROAST. On an open flame, roast bellpeppers until the skin is charred and the bellpepper is tender. After, peel the skin off and roughly chop the bellpepper.
SAUTE. On a pot, add oil and saute onion and garlic. Then, add in bellpepper. Add water and let it boil.
BLEND. Transfer the soup into a blender and blend until it reaches a smooth consistency. Then, transfer it back into the pot.
SEASON. with salt, pepper, and ChickenSavor® Seasoning Mix.
SERVE. Top with 1 tablespoon sour cream and 1/2 tablespoon spring onion per bowl. Serve hot.
Cooking Notes
Make sure to roast the bellpepper well so that it will produce the roasted flavor for the soup.
NUTRITION INFORMATION
Nutrition Facts
Calories per Serving
84
Carbohydrates (g)
12
Proteins (g)
1.8
Fat (g)
2.9
Dietary Fiber (g)
2.3
Calcium (mg)
52
Iron (mg)
0.7
Sodium (mg)
353.10
Good to Know Nutrition Facts!
Bell peppers are very high in vitamin C. Other vitamins and minerals found in bell peppers include Vitamin K1, Vitamin E, Vitamin A, Folate, and Potassium.
Product Used