SALMON IN SPINACH-GARLIC DIP RECIPE
AJI-NO-MOTO® UMAMI SEASONING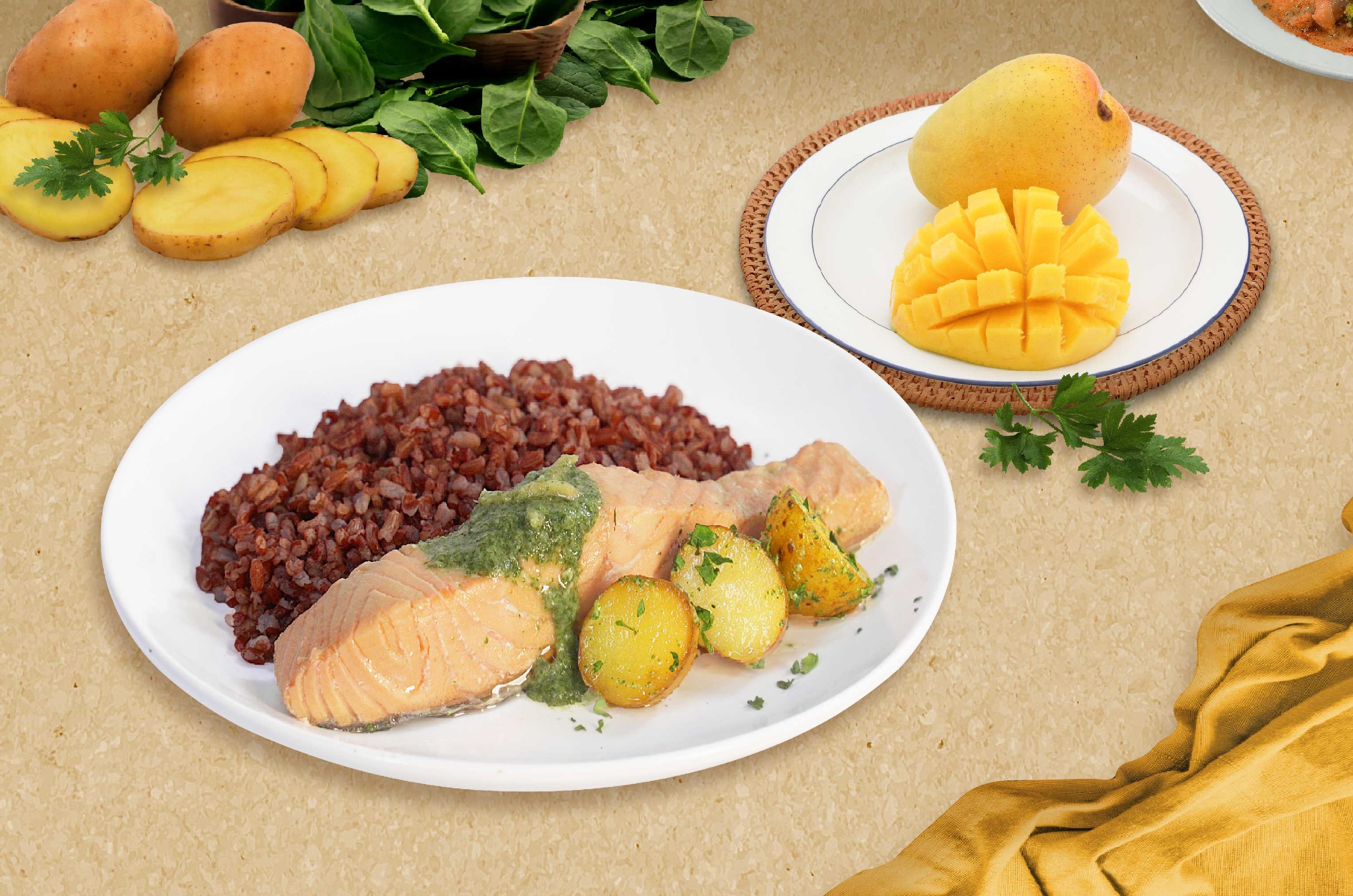 Ingredients
1 cup (95g) Spinach, leaves
6 cloves (40g) Garlic, peeled
2 Tbsps (30ml) Plain yogurt
1/4 cup (60ml) Low fat milk
1 Tbsp (15ml) Lemon juice
1 pack (11g) AJI-NO-MOTO® Umami Seasoning
3 Tbsps (45ml) Olive oil
2 Tbsps (25g) Ginger, sliced
8 slices (360g) Salmon, sliced
1/2 cup (90g) Marble potatoes, halved
To complete the meal (optional):
1 cup (170g) Brown rice
1/2 cup (165g) Ripe mango
NUTRITION INFORMATION
Nutrition Facts
Calories per serving (kcal)
207.5
Carbohydrates (g)
23.9
Proteins (g)
12.2
Fat (g)
7.1
Dietary Fiber (g)
2.9
Calcium (mg)
49.0
Iron (mg)
1.9
Sodium (mg)
260.7
Good to Know Nutrition Facts!
Salmon is rich in Omega -3 Fatty Acids which is beneficial for your heart's health.
Preparation time: 15 minutes
Cooking time: 25 minutes
Procedure
BLEND. To make the spinach dip, add spinach and garlic in a food processor. Blend for 1 minute at high speed. Gradually add yogurt, milk, lemon juice, and AJI-NO-MOTO®. Blend for another 1 minute. Set aside.
ASSEMBLE. In a roasting pan, drizzle olive oil. Assemble ginger, salmon slices, and marble potatoes. Pour spinach dip mixture.
BAKE. Place the roasting pan in an oven or toaster and bake salmon for 15-20 minutes.
SERVE. Transfer to a plate. Serve with brown rice and ripe mango to complete the meal.
Makes 8 servings
Serving size: 1/3 cup (87.5g)
Cooking Tips
If marble or pearl potatoes are not available, you can use a regular potato – cut it into cubes or dice.
Product Used