SALT & PEPPER TOFU RECIPE
AJINOMOTO AJI-SHIO® SEASONING MIX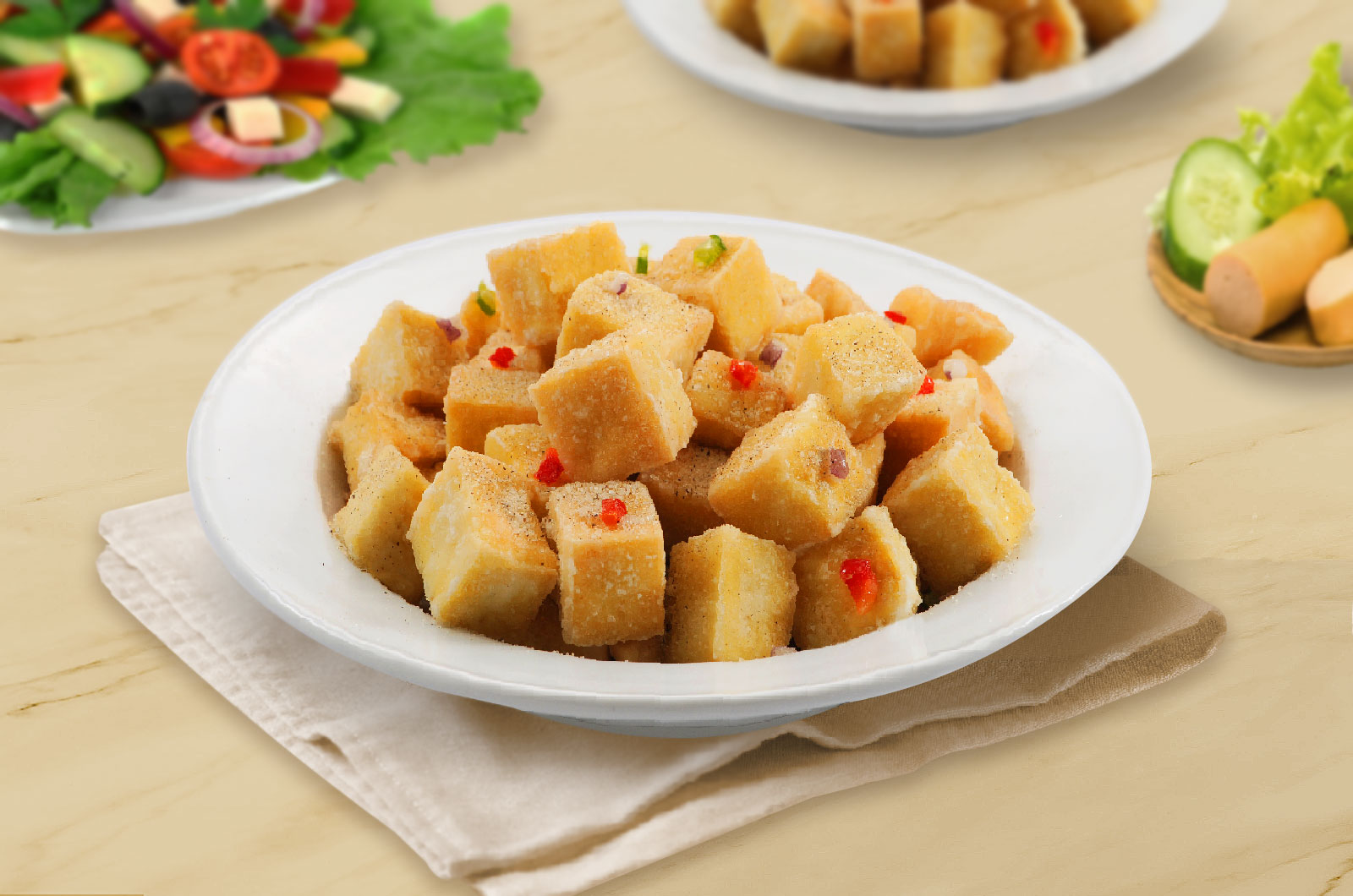 Ingredients
3/4 cup , (90g) Cornstarch
2 blocks , (600g) Tofu Firm
1/2 cup , (118 ml) Cooking oil
Salt & Pepper mixture:
1/8 cup , (15g) Red Bell Pepper, diced
1/8 cup , (15g) Green Bell Pepper, diced
1 piece , (1g) Chili, diced
1/4 cup , (25g) Onion, red, diced
2 tablespoons, (10g) Spring Onions, minced
1 teaspoon (5g) Ginger ,minced
To taste AJI-SHIO® Pepper Seasoning Mix
NUTRITION INFORMATION
Nutrition Facts
Calories per serving
391.0
Carbohydrates (g)
20
Proteins (g)
9.9
Fat (g)
30.1
Dietary Fiber (g)
1.9
Calcium (mg)
229.0
Iron (mg)
4.5
Sodium (mg)
73.6
Good to Know Nutrition Facts!
Tofu provides an excellent source of protein, vitamins and minerals — without the saturated fat found in meat.
Preparation time: 10 minutes
Cooking time: 20 minutes
Procedure
COAT. On a plate, fully coat tofu with cornstarch. Set aside.
FRY. On a deep pan, pour oil and heat until it reaches 350°F. Fry tofu until golden brown then set aside.
SAUTÉ. On another pan, get 1 tablespoon of oil from the frying oil and sautè red bell pepper, green bell pepper, chili, onion, spring onion, and ginger. Then, combine well with tofu on a plate.
SEASON with AJI-SHIO ® Pepper and serve hot.
Makes 5 servings
Serving Size : 1/2 cup(110 grams)
Cooking Tips
Season the tofu with AJI-SHIO ® Pepper Seasoning Mix while the tofu is still hot, so that it will absorb the seasoning better.
Product Used