SARDINES LUMPIANG SHANGHAI RECIPE
AJINOMOTO® BRAND GINISA FLAVOR SEASONING MIX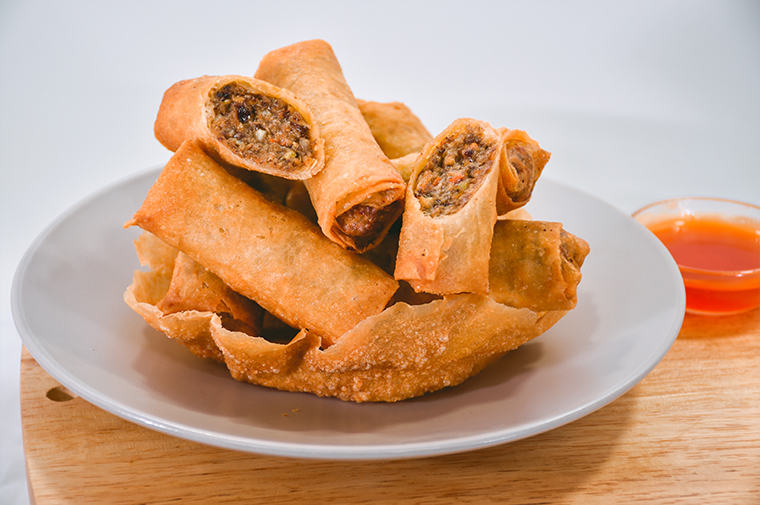 Ingredients
2 1/2 cups (625 grams) Sardines (Tomato Sauce), canned 2 pcs med.size Egg, chicken, beaten
1 Tbsp (15 grams) Ginger, minced
1/4 cup (55 grams) Onion, red, minced
1 Tbsp (30 grams) Garlic,, minced
1/2 cup (110 grams) Carrot, chopped
1 pack (7 grams) AJI-GINISA® Flavor Seasoning Mix
2 tsp (8 grams) Pepper, black, ground
30 pcs Lumpia Wrapper
2 cups (500 ml) Oil, cooking
NUTRITION INFORMATION
Nutrition Facts
Calories per serving (kcal)
126.7
Carbohydrates (g)
4.1
Proteins (g)
4.6
Fat (g)
10.1
Dietary Fiber (g)
0.6
Calcium m(g)
152.3
Iron (mg)
1.3
Sodium (mg)
253.2
Good to Know Nutrition Facts!
Sardines are an excellent source of calcium. That makes them a good choice for those who are lactose intolerant, allergic to dairy, or need more calcium in their diet. This can also be helpful during pregnancy when you need extra forms of calcium for the health of your baby. (USDA)
Preparation time: 20 minutes
Cooking time: 10 minutes
Procedure
MIX sardines, egg, ginger, onion, garlic, carrots, AJI-GINISA® and pepper.
PUT 2 tbsp of sardines mixture into a lumpia wrapper. Roll and seal tightly.
DEEP FRY lumpiang shanghai in hot oil.Drain well.
SERVE with your favorite dipping sauce (ketchup, mayonnaise, sweet and sour sauce, etc.)
Makes 15 servings
Cooking Tips
Drain sardines well to avoid having soggy- looking Lumpiang Shanghai.
Product Used