SAUTEED BOK CHOY AND MUSHROOMS
AJI-NO-MOTO® UMAMI SEASONING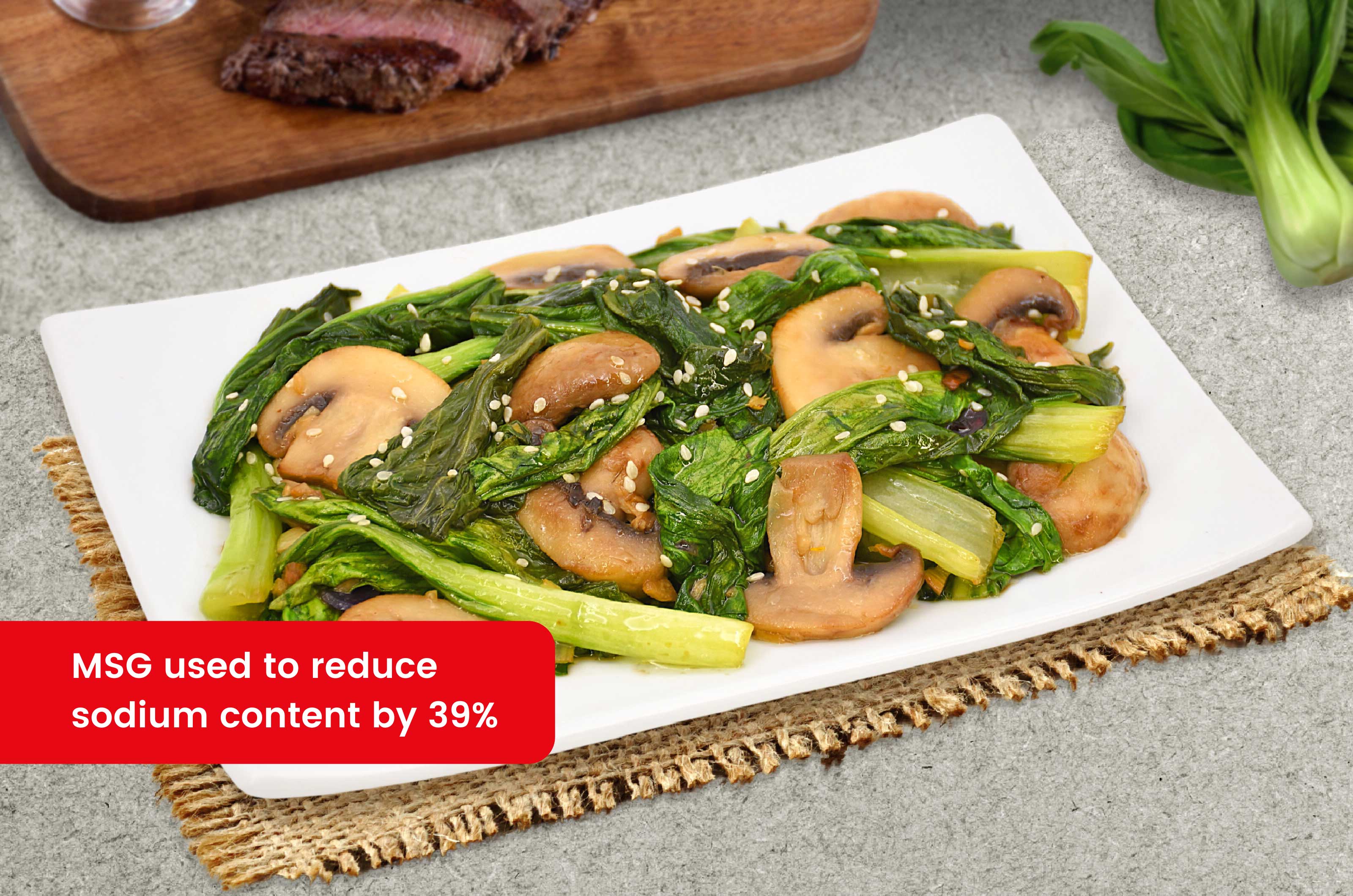 Ingredients
2 Tbsps. (30ml) Vegetable oil
2Tbsps. (30g) Onion, chopped
2 Tbsps. (30g) Garlic, chopped
1 Tbsp. (15g) Ginger, peeled and minced
14kilo (250g) Button mushrooms, sliced
1/2kilo (500g) Bok choy, well-cleaned, leaves separated
1 cup (250ml) Water
3 Tbsps. (45ml) Soy sauce
1 Tbsp. (15g) Sugar
1/8 tsp. (0.4g) Pepper, black, ground
1pack (11g) AJI-NO-MOTO® Umami Seasoning
2 tsps. (10ml) Sesame oil
2 Tbsps. (30g) Sesame seeds,toasted
Reduced sodium by 39%
Original seasoning/condiment: 1 1/2 tsps. (7.5g)
NUTRITION INFORMATION
Nutrition Facts
Calories per serving (kcal)
126.4
Carbohydrates (g)
16.4
Proteins (g)
3.6
Fat (g)
5.5
Dietary Fiber (g)
2.9
Calcium (mg)
61.2
Iron (mg)
2.7
Sodium (mg)
294.4
Good to Know Nutrition Facts!
Bok choy contains vitamin C, vitamin E, and beta-carotene that help protect cells against damage by free radicals.
Preparation time: 20 minutes
Cooking time: 15 minutes
Procedure
SAUTE. In a pot heat the cooking oil. .Sauté the onion, garlic, and ginger. Add button mushrooms and bok choy.Cook for at least five (5) minutes or until wilted.
BOIL and SIMMER.Add water, soy sauce and sugar, mix well then boil. Adjust heat and simmer the ingredients.
SEASON. Add pepper and AJI-NO-MOTO®. Mix well and cook for another minute. Add sesame oil.
SERVE. Transfer to a serving plate. Top with toasted sesame seeds and serve while hot.
Makes 8 servings
Serving size: 1 cup (140g)
Cooking Tips
When shopping for bok choy, avoid any pieces that have brown spots appearing on them.It means that vegetables are no longer fresh.
Product Used