SAUTÉED CABBAGE WITH FLAKED FISH RECIPE
AJI-NO-MOTO® UMAMI SEASONING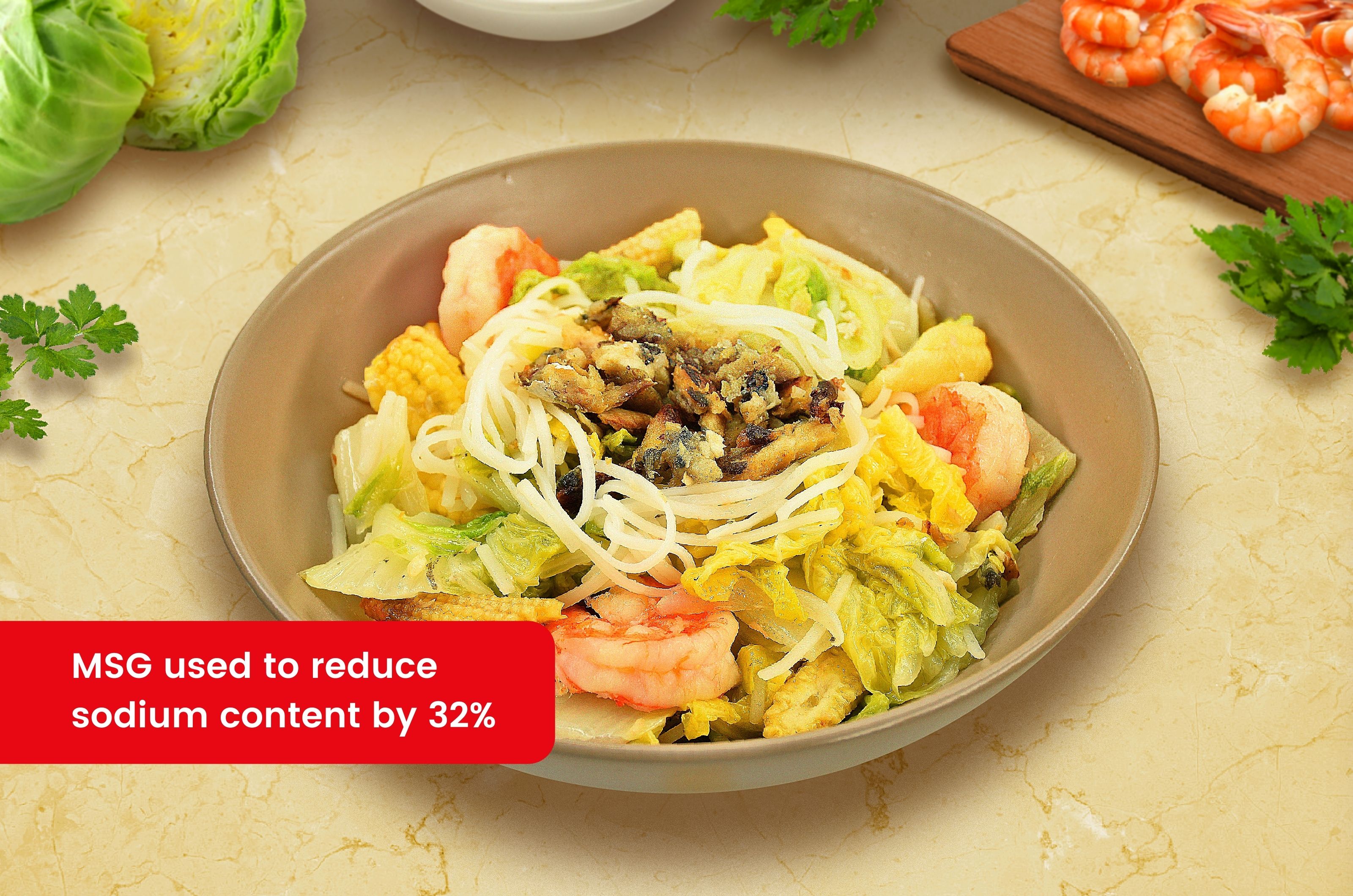 Ingredients
1 Tablespoon (15 ml) Cooking oil
1/2 cup (120 grams) Onions, thinly sliced
1 Tablespoon (15 grams) Garlic, finely chopped
1 cup (150 grams) Shrimps, peeled, deveined
2 cups (500 ml) Water
1 cup (100 grams) Young corn. cut into 1″ long
1/4 kilo (250 grams) Cabbage, sliced
3/4 cup (180 grams) Bihon noodles, blanched, drained
1/2 pack (5.5 grams) AJI-NO-MOTO® Umami Seasoning
1 Tablespoon (15 ml) Fish sauce
1 Tablespoon (15 grams) Sugar
1 cup (250 grams) Fried fish, flaked
Reduced sodium by 32%
Original sodium content: 1/4 cup (60 ml) Fish sauce
NUTRITION INFORMATION
Nutrition Facts
Calories per serving (kcal)
181.0
Carbohydrates (g)
24.6
Proteins (g)
13.4
Fat (g)
3.1
Dietary Fiber (g)
2.0
Calcium (mg)
76.5
Iron (mg)
1.7
Sodium (mg)
397.3
Good to Know Nutrition Facts!
The fiber and water content in cabbage help to prevent constipation and maintain a healthy digestive tract. Eating adequate fiber promotes regular bowel movement.
Preparation time: 15 minutes
Cooking time: 20 minutes
Procedure
SAUTÉ. In a pan, heat oil. Sauté onion and garlic. Add shrimps and continue cooking for 3-5 minutes.
SIMMER. Add water and young corn, simmer for 5 minutes. Add cabbage and simmer for another minute then add noodles and toss to combine.
SEASON. Season with AJI-NO-MOTO®, add fish sauce and sugar, mix well.
SERVE. Transfer to a serving plate, top with with fried, flaked fish and enjoy.
Makes 8 servings
Serving size: 3/4 cup (145 g)
Cooking Tips
If you like the taste and texture of boiled cabbage, but are not a fan of the smell, try steaming it instead.
Product Used