Sauteed Garlic Shitake Mushroom
SARSAYA® OYSTER SAUCE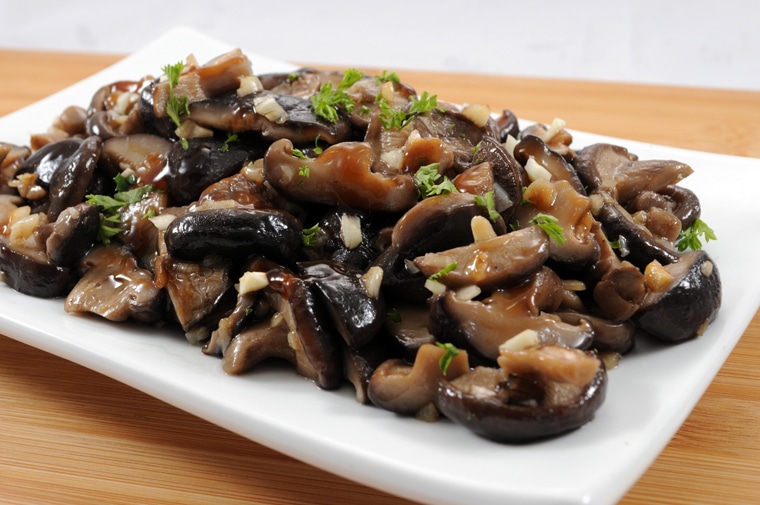 Ingredients
1 tablespoon 15ml cooking oil
500g shitake mushroom, canned, sliced
1 tablespoon 12g garlic, minced
1/4 cup 35g onion, minced
1 tablespoon 15g butter, unsalted
1 tablespoon 10g parsley, minced
2 packs Sarsaya® Oyster Sauce
1/2 tablespoon 7.5ml sesame oil
Preparation
Preparation and Cooking Time: 30-40 minutes Makes: 4-5 servings
Serving size: For 400g  serving and a 1/2 cup (80g) per serving
Procedure
SAUTE. On a high heat pan, add oil and saute mushrooms until lightly brown. Then, add in butter, onion, and garlic.
SEASON. With Sarsaya® Oyster Sauce and sesame oil.
GARNISH. With parsley and serve hot.
Cooking Notes
Make sure to drain the shitake mushroom from the mushroom so that it will brown better.
NUTRITION INFORMATION
Nutrition Facts
Calories per Serving
92
Carbohydrates (g)
10.2
Proteins (g)
2.6
Fat (g)
4.2
Dietary Fiber (g)
0.3
Calcium (mg)
16
Iron (mg)
1.2
Sodium (mg)
592.1
Product Used