SEAFOOD SPRING ROLL
AJI-NO-MOTO® UMAMI SEASONING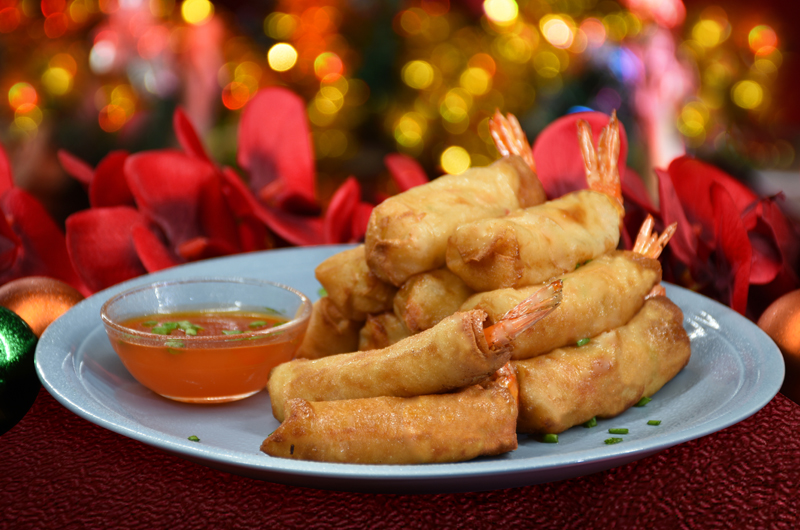 Ingredients
Seafood Mixture:
1 cup 250g Shrimp, ground
1/2 cup 100g Crab Meat
1 cup 200g Tofu
2 Tbsps 30g Green Bell Pepper
3 Tbsps 30g Red Bell Pepper
4 Tbsps 30g Carrots
1 pack 11g AJI-NO-MOTO® Umami Seasoning
2 tsps 10ml Fish Sauce
Other Ingredients:
1 cup 250g Whole Shrimp, shelled
20 pcs 100g Lumpia Wrapper
Water for sealing
2 cups 500 ml Oil
NUTRITION INFORMATION
Nutrition Facts
Calories per serving
109.3 Calories
Carbohydrates (g)
4.0 grams
Proteins (g)
7.1 grams
Fat (g)
7.2 grams
Dietary Fiber (g)
0.3 gram
Calcium m(g)
65.0 milligrams
Iron (mg)
1.0 milligrams
Sodium (mg)
342.1 milligrams
Good to Know Nutrition Facts!
Shrimp is a good protein source and it is rich in minerals helping the body regulating functions.
Preparation
Makes: 20 servings
Procedure:

1.MIX. Using a food processor, mix shrimp, crab meat, and tofu. Transfer into a bowl. Add bell peppers, carrots, AJI-NO-MOTO® Umami Seasoning, and Fish Sauce.
2. ROLL. On a counter top, place lumpia wrapper. Scoop seafood mixture on the lumpia wrapper. Place a whole shrimp then roll tightly and seal with water.
3. CHILL. Place rolls in a refrigerator to chill and firm it up.
4. FRY. In a pan, heat oil. Fry spring rolls until it turns golden brown.
5.SERVE. Serve and enjoy.
Cost
Recipe Cost: Php 549.47
Cost per Serving: Php 27.47
Cooking Tips
You may explore on different dipping sauce such as Sarsaya® Sweet & Sour Sauce, Sweet Chili Sauce, or Garlic-Mayo Aioli.
Product Used