SHRIMP IN MANGO SALSA RECIPE
AJINOMOTO AJI-SHIO® SEASONING MIX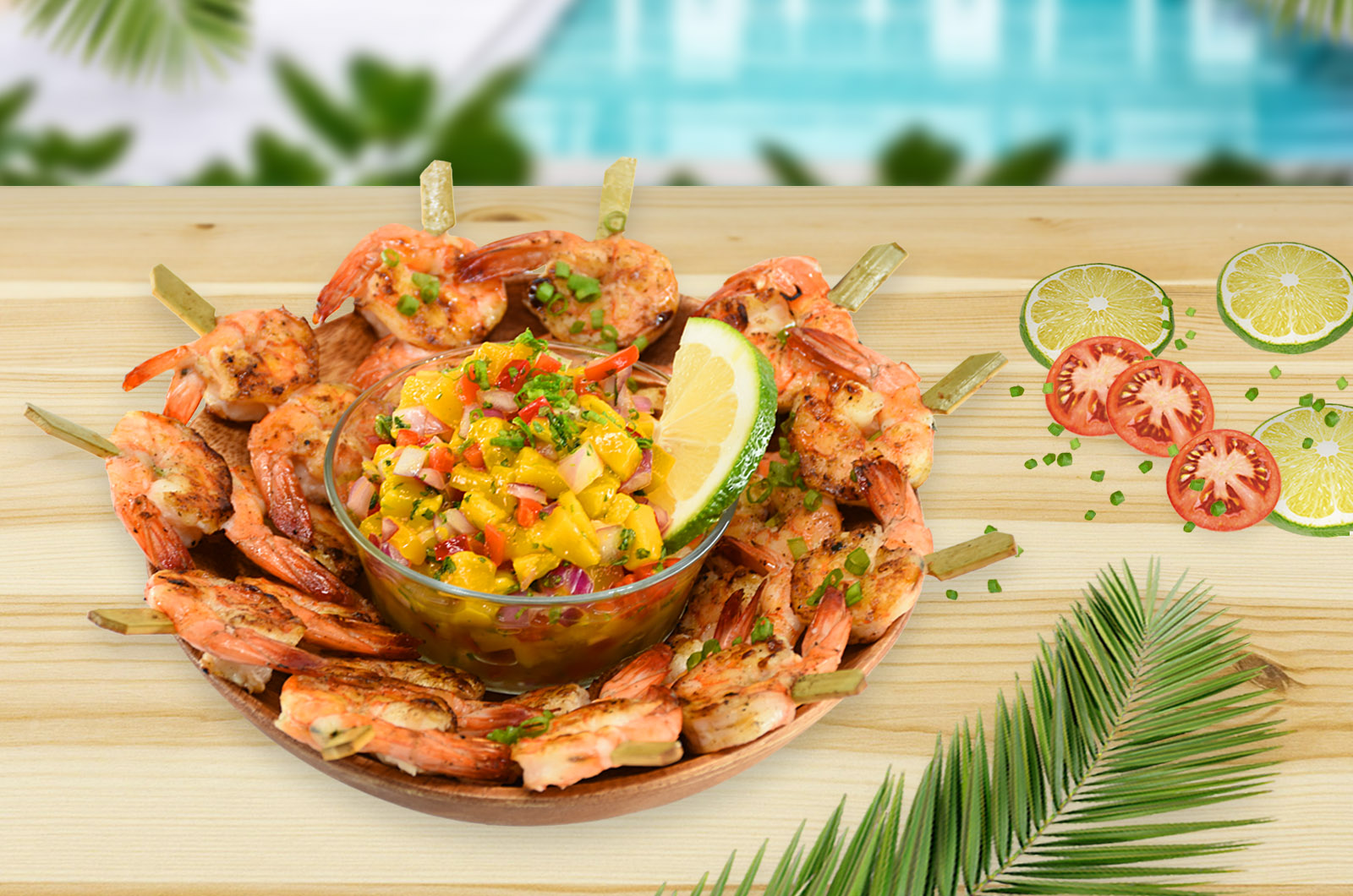 Ingredients
3 cups 600g Shrimp,large size (@32-34 pcs /kilo) , shelled and deveined
1 pack (18g) AJI-SHIO® Pepper Seasoning Mix
1 cup 200g Ripe Mango, cubed
1/2 cup 100g Red Onion, diced
1/2 cup 100g Red Bell Pepper, diced
2 Tbsps 20g Cilantro, chopped
1/2 cup 120ml Lime Juice
NUTRITION INFORMATION
Nutrition Facts
Calories per serving
78.3
Carbohydrates (g)
8.3
Proteins (g)
10.2
Fat (g)
0.5
Dietary Fiber (g)
0.9
Calcium (mg)
106.2
Iron (mg)
1.1
Sodium (mg)
898.7
Good to Know Nutrition Facts!
This recipe contains good amounts of nutrients, particularly proteins. Consuming nutrient-dense and high protein food like shrimp is good for maintaining a healthy, lean body mass.
Preparation time: 20 minutes
Cooking time: 20 minutes
Procedure
SEASON. On a clean plate, season shrimp with half pack of AJI-SHIO® Pepper. Skewer shrimp on a stick. Set aside.
 GRILL. On a heated grill pan, grill shrimp on both sides. Set Aside.
 MIX. To make mango salsa, mix mango, onion, bell pepper, cilantro and lime juice in a bowl. Season with AJI-SHIO® Pepper. Mix Well.
 ASSEMBLE & SERVE. On a plate, assemble shrimp and mango salsa. Serve and enjoy.
Makes 12 servings
Serving size: 1/4 cup (50g Shrimp & 3 Tbsps (45g) Salsa
Cooking Tips
Avoid store-bought peeled and deveined shrimp; cleaning before freezing may cause a loss of flavor and texture.
Product Used