SHRIMPS IN CORN SOUP RECIPE
AJI-NO-MOTO® UMAMI SEASONING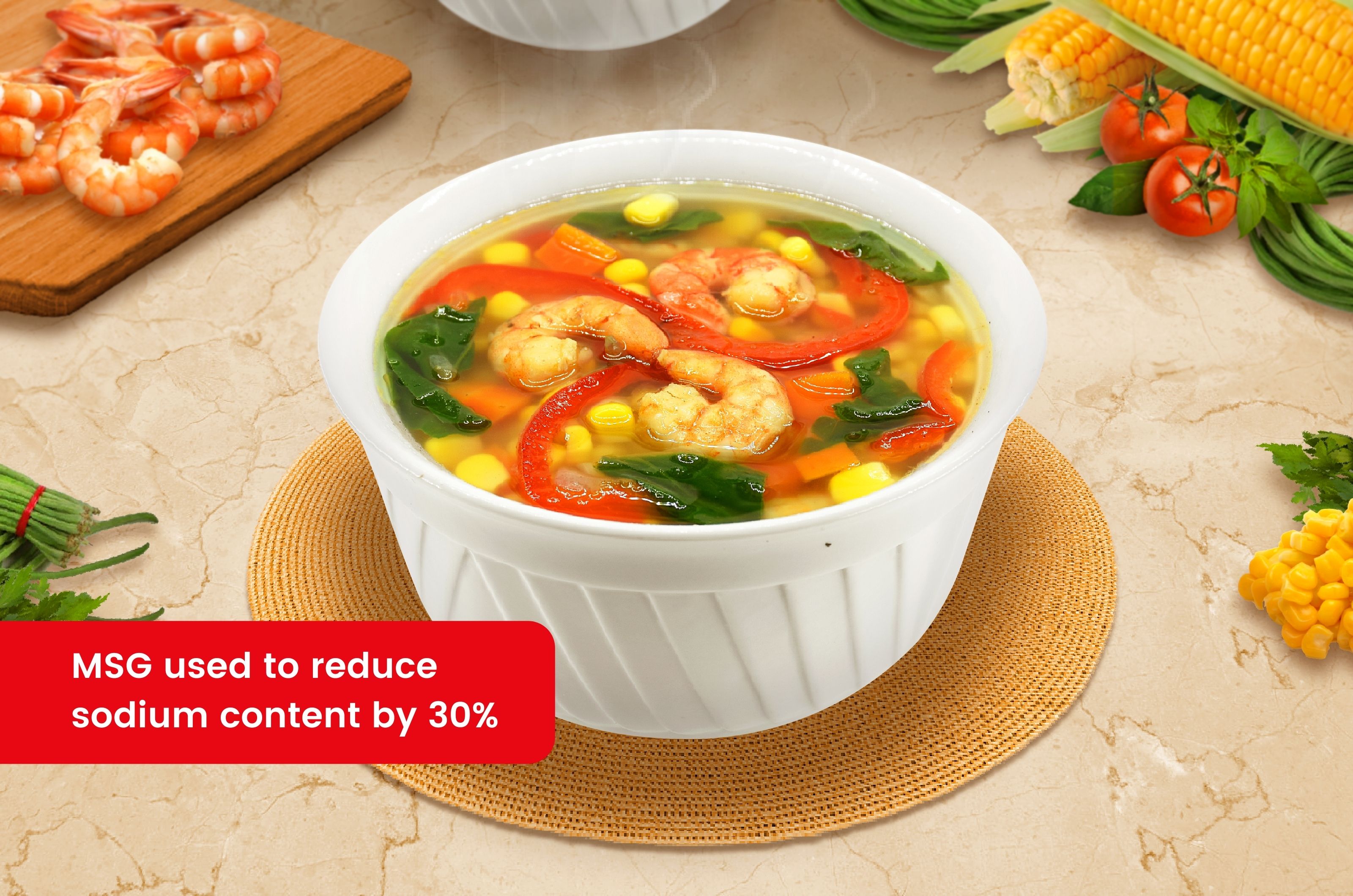 Ingredients
1 teaspoon (5ml) Cooking oil
1 teaspoon (5g) Garlic, finely chopped
1/4 kilo (250g) Shrimp, cleaned and deveined
1/4 cup (27g) Red bell pepper, julienned
1 1/2 cups (252g) Fresh corn kernels
2 cups (500ml) Water
1/2 pack (5.5g) AJI-NO-MOTO® Umami Seasoning
1 tablespoon (15g) Ginger, strips
1/4 cup (40g) Carrots, cubed
1/2 cup (30g) Spinach
1 tablespoon (15ml) Fish sauce
1/8 teaspoon (0.3g) Pepper powder
Reduced sodium by 30%
Original sodium content: 3 Tablespoons (40 ml) Fish sauce
NUTRITION INFORMATION
Nutrition Facts
Calories per serving (kcal)
76.6
Carbohydrates (g)
10.4
Proteins (g)
6.2
Fat (g)
1.1
Dietary Fiber (g)
1.9
Calcium (mg)
46.4
Iron (mg)
0.9
Sodium (mg)
348.8
Good to Know Nutrition Facts!
Corn kernels are high in fiber, which helps the body stave off any digestive problems or illnesses including constipation, hemorrhoids, and colorectal cancer.
Preparation time: 10 minutes
Cooking time: 15 minutes
Procedure
SAUTÉ. In a pan, heat oil and sauté garlic, add shrimps and bell peppers. Add corn and water. Mix well.
SEASON & SIMMER. Sprinkle 1 pack of AJI-NO-MOTO®. Add ginger, carrots and spinach, and then cook for a few minutes. Add fish sauce and pepper powder. Mix well. Turn off fire.
SERVE. Turn off fire. Transfer on a serving bowl then serve hot.
Makes 10 servings
Serving size: 1/3 cup (80 g)
Cooking Tips
Look for fresh corn with husk that has bright green color and wrapped tightly against the corn and is slightly damp.
Product Used