SILKEN TOFU TINOLA RECIPE
CHICKENSAVOR™ ALL-IN-ONE SEASONING MIX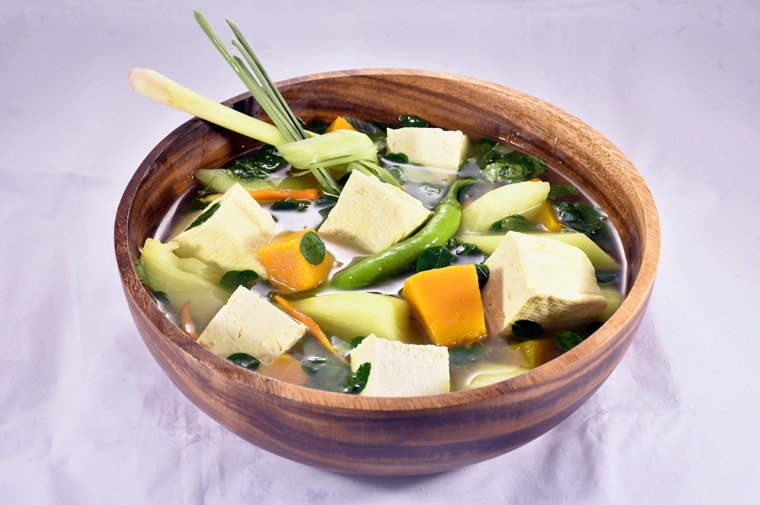 Ingredients
1 tablespoon Oil
1 tablespoon Ginger (thinly sliced)
1/2 tablespoon Red Onion (chopped)
1 teaspoon Turmeric (thinly sliced)
1 stalk Lemongrass (1 stalk then mush the edge)
1 tablespoon Fish sauce
4-6 cups Chicken stock or water
2 cups Papaya (chopped)
2 cups Squash (chopped into cubes)
1 piece Green chili (whole)
1 cup Silken Tofu (cut into cubes)
1 cup malunggay leaves
1 pack CHICKENSAVOR™  All-In-One Seasoning Mix
Optional:
malunggay fruit (optional)
NUTRITION INFORMATION
Nutrition Facts
Calories per Serving (kcal)
850
Carbohydrates (g)
142.90
Proteins (g)
25.5
Fat (g)
18.9
Dietary Fiber (g)
7.0
Calcium (mg)
194
Iron (mg)
4.2
Sodium (mg)
607.9
Good to Know Nutrition Facts!
Fishes are good protein substitutes to your red meats!
Preparation and Cooking time: 30 minutes
Procedure
SAUTÉ. In a medium hot pot, pour oil and saute ginger, turmeric, onions, lemongrass for few minutes.
SEASON with fish sauce and stir in for a few more minutes.
SIMMER AND SEASON. Add squash, malunggay fruit and papaya let it boil for 5 minutes. Pour broth until vegetable are soft but not soggy. Add CHICKENSAVOR™ .
SIMMER. Put in green chili and tofu. Continue to simmer for another 5 minutes. Turn off the fire and place the malunggay leaves on the top of the cooked tinola.
.
Makes: 5 servings
Serving size: 180 grams per cup
Cooking Tips
If you cant find silken tofu regular tofu will do.
Product Used