SINIGANG NA BABOY SA CALAMANSI
AJI-NO-MOTO® UMAMI SEASONING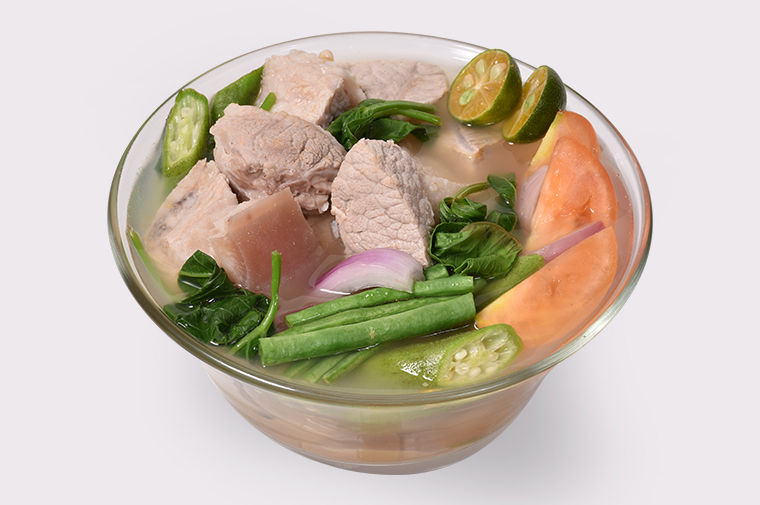 Ingredients
5 cups (1250 ml) Water
3 pieces (180 grams) Tomatoes
3 cups (500 grams) Pork kasim
1 cup (170 grams) Gabi, Big Diced
1 cup (100 grams) Onion, quartered
2 pieces (20 grams) Green chili
3 Tablespoons ( 45 ml) Fish sauce
1 pack (11 grams) AJI-NO-MOTO® Umami Seasoning
1 cup (100 grams) Okra, cut into bite size
1 cup (150 grams) Labanos, cut into bite size
2 cups (130 grams) Sitaw, cut into bite size
2 bundles (100 grams) Kangkong, leaves and young stems
1/2 kilo calamansi (125 ml) Calamansi, juiced and seeds removed
Preparation
Total yield:  Soup: 1250ml, Milkfish: 500g, Vegetables: 950g
Size per serving: Soup: 250ml, Milkfish: 100g, Vegetables: 190g
Meal Serving Idea: Soup: 1 cup, Milkfish: 1/2 cup, Vegetables: 1 cup
Paraan ng Pagluluto:

1. BOIL. In a pot, pour water and add the tomatoes. Let it boil until tomatoes become soft. Crush the tomatoes and add the pork. Let it boil for 30 minutes. In the first 15 minutes, add the gabi, onions, and green chili and let it continue to boil.
2. SEASON. Add fish sauce and AJI-NO-MOTO® Umami Seasoning.
3. BOIL. Add okra, labanos, sitaw and let it boil once. Add Kangkong and kalamansi. Simmer for 3 minutes.
4. SERVE while hot and enjoy!
Cooking Notes
If your prefer a thicker sinigang soup, you may add more gabi and crush them. Its starch content will thicken the soup.
Nutrition Tip
Save up the second rice washing you have when cooking rice for meal time. You can use this instead of water. The rice washing contains B-vitamins that would benefit your health!
NUTRITION INFORMATION
Nutrition Facts
Calories(kcal) per Serving
484
Carbohydrates (g)
18.3
Proteins (g)
 18.5
Fat (g)
37.3
Dietary Fiber(g)
3.1
Calcium m(g)
96
Iron (mg)
4.3
Sodium(mg)
483.5
COST (per recipe): PhP 313.07
COST (per serving): PhP   62.61
Product Used