SINIGANG NA HIPON SA SAMPALOK
AJI-NO-MOTO® UMAMI SEASONING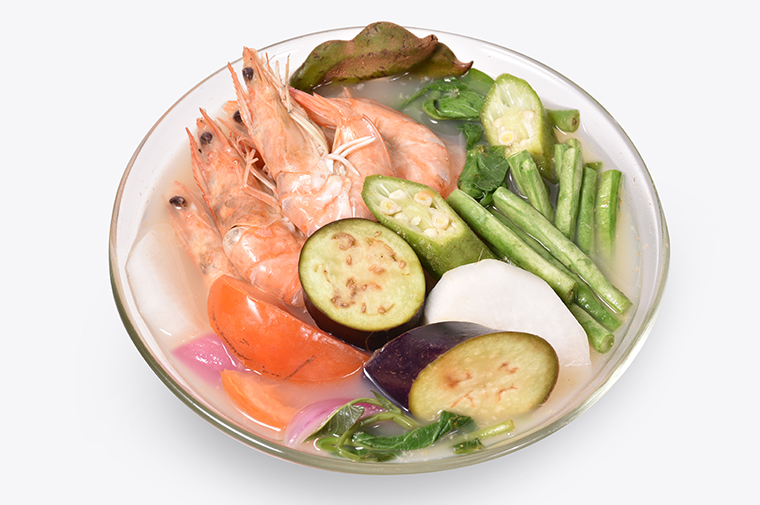 Ingredients
1 cup 250ml Water
1 cup 120g Sampalok fruit, whole
6 cups 1500ml Rice washing
1 cup 175g Tomato, quartered
1 cup 140g Red onion, quartered
1 Tbsp 15ml Fish sauce
1 1/2 cups 275g Shrimp, whole
1/2 cup 60g String beans, cut into bite size
1/2 cup 60g Eggplant, thick round slices
1/2 cup 100g Radish, thick round slices
1/4 cup 60g Okra, cut into bite size
1 cup 80g Kangkong Leaves
1  pack 11g AJI-NO-MOTO® Umami Seasoning
1 pc 10g Green Chili
Preparation
Total yield:  Soup: Soup: 1600ml, Shrimp: 275g, Vegetables: 680g
Size per serving: Soup: Soup: 200ml, Shrimp: 35g, Vegetables: 85g
Meal Serving Idea: 1 cup,  Bangus: 1/4 cup  Vegetables: 1/2 cup
Paraan ng Pagluluto:

1. BOIL & MASH. In a pot, boil water and sampalok fruit for 5-10 minutes. Using  a strainer, strain and mash sampalok fruit to get a thick extract. Set aside.
2. BOIL. In a separate pot, boil rice washing, tomato, red onion, fish sauce, and sampalok extract.
3. SIMMER. Add shrimp and simmer for 5 minutes. Add string beans, eggplant, radish, okra, and kangkong leaves. Simmer for another 3 minutes.
4. SEASON. Season with AJI-NO-MOTO® Umami Seasoning and mix well. Add Green Chili. Turn off the heat.
5. SERVE. Serve and enjoy.
Cooking Notes
You can add more sampalok to make the broth more sour.
NUTRITION INFORMATION
Nutrition Facts
Calories(kcal) per Serving
 98.5 kcal
Carbohydrates (g)
 15.8
Proteins (g)
 8.5
Fat (g)
0.6
Dietary Fiber(g)
2.3
Calcium m(g)
105.2
Iron (mg)
2.1
Sodium(mg)
577.2
COST (per recipe): PhP 226.7
COST (per serving): PhP  28.34
Product Used