SPICY MAC AND CHEESE RECIPE
PORKSAVOR® ALL-IN-ONE SEASONING MIX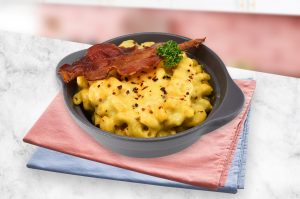 Ingredients
1 cup (250ml) Whole Milk
1pc (60g) Egg, beaten
1/2 cup (120g) Cheese, quickmelt
2 tsps (5g) Chili Powder
1 pack (8g) PORKSAVOR® All-in-one Seasoning Mix
1 tbsp (15g) Unsalted Butter
4 cups (1000g) Macaroni Noodles, boiled and drained
4 pcs (80g) Bacon slices
4 tsps (10g) Chili Flakes
NUTRITION INFORMATION
Nutrition Facts
Calories per serving
598.2
Carbohydrates (g)
96.2
Proteins (g)
24.3
Fat (g)
13.1
Dietary Fiber (g)
3.9
Calcium (mg)
195.9
Iron (mg)
4.5
Sodium (mg)
461.4
Good to Know Nutrition Facts!
Pasta (like macaroni) is a good source of Carbohydrates that gives us energy.
Preparation time: 10 minutes
Cooking time: 20 minutes
Procedure
MIX. In a bowl, mix milk, egg, cheese, chili powder, and PORKSAVOR®.
SIMMER. In a heated pan, melt butter. Add milk mixture and simmer for 5 minutes. Add Macaroni noodles and simmer for another 3 minutes. Set aside.
PAN FRY. On a heated pan, place bacon slices. Fry until crispy.
ASSEMBLE. On a serving plate, assemble Mac & Cheese and top with bacon as garnish.
SERVE. Serve and enjoy.
Makes 8 servings
Serving size: 1 1/2 cup (375g) Mac and Cheese
Cooking Tips
Cook pasta as instructed in the packaging so it won't get mushy when mixed with cheese sauce.
Product Used