SPRING ROLL RECIPE
AJI-NO-MOTO® UMAMI SEASONING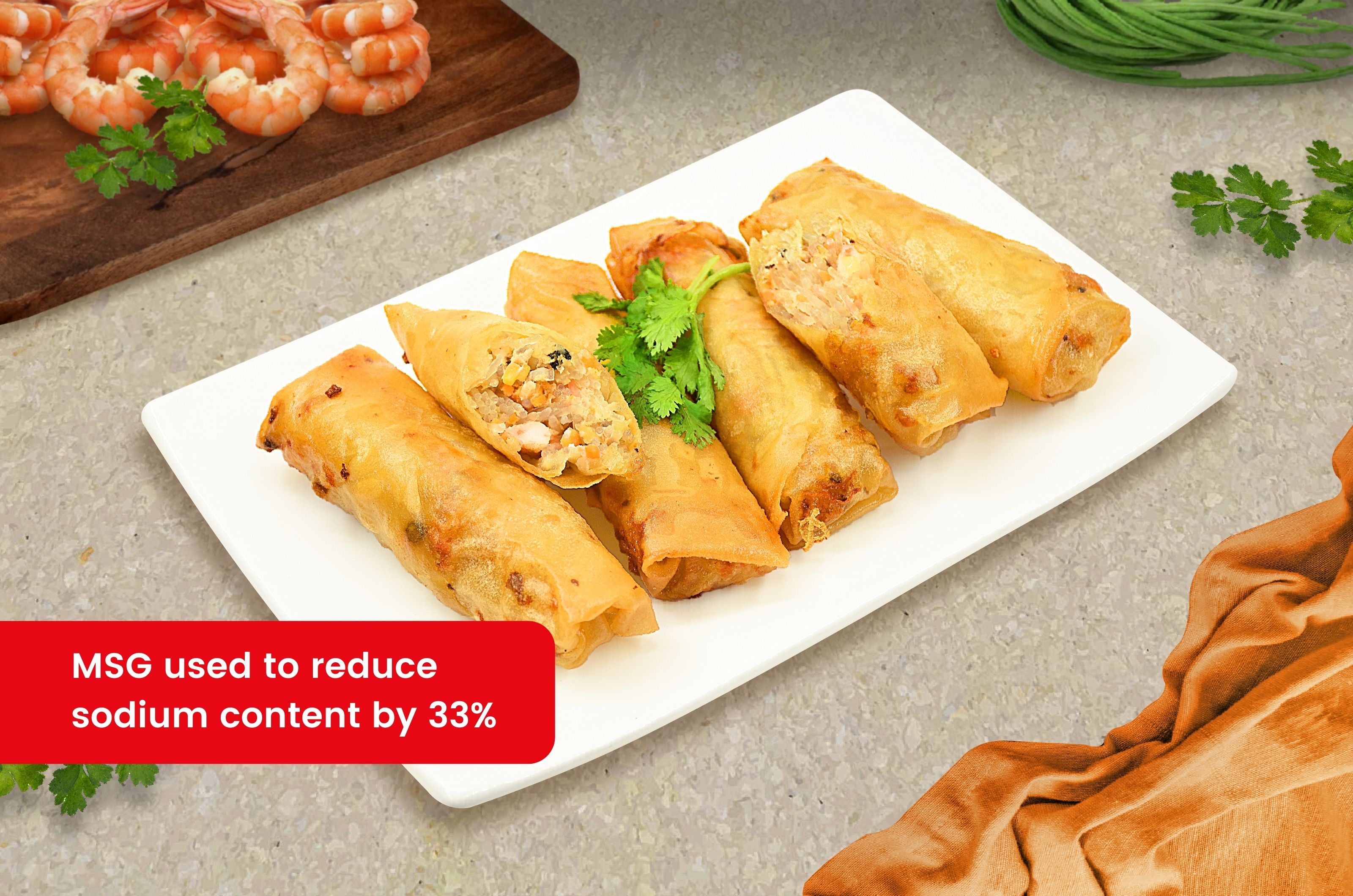 Ingredients
3 cups (500 grams) Sotanghon noodles, soaked, drained
1 cup (200 grams) Shrimp, sliced thinly
1 cup (200 grams) Wood ear, sliced thinly
1 cup (130 grams) Carrots, minced
1/2 cup (120 grams) Onions, minced
1/4 cup (60 grams) Garlic, chopped
4 Tablespoons (60 grams) Sugar
1/2 pack (5.5 grams) AJI-NO-MOTO® Umami Seasoning
1/2 Tablespoon (7.5 grams) Salt
1 teaspoon (1 gram) Pepper, black, ground
25 pieces (25 grams) Lumpia wrapper
1 cup (250 ml) Cooking oil
Reduced sodium by 31%
Original sodium content: 1 Tablespoon (15 grams) Salt
NUTRITION INFORMATION
Nutrition Facts
Calories per serving (kcal)
237
Carbohydrates (g)
25.1
Proteins (g)
16.6
Fat (g)
7.8
Dietary Fiber (g)
3.4
Calcium (mg)
1727.2
Iron (mg)
18.3
Sodium (mg)
384.8
Good to Know Nutrition Facts!
Rice noodles have higher glycemic index than egg noodles, which means your body breaks them down into sugar and can be absorbed more quickly.
Preparation time: 30 minutes
Cooking time: 30 minutes
Procedure
MIX. In a bowl put sotanghon noodles, shrimp, wood ear, carrots, onions, garlic and sugar.
SEASON. Add AJI-NO-MOTO®, salt and black pepper.
ASSEMBLE. Spoon at least 2 tablespoons of the mixture over the lumpia wrapper, fold both ends then roll. Moist with water to seal.
DEEP-FRY. Heat oil in a pan and fry spring roll until golden brown. Rest for at least 5 minutes to drain the excess oil.
SERVE. Transfer to a serving plate and serve with your preferred dipping sauce. Enjoy!
Makes 10 servings
Serving size: 2 pieces (124 grams)
Cooking Tips
Do not cover fried spring rolls after cooking to ensure its crispiness upon serving.
Product Used