Steamed Chicken in Oyster Sauce
SARSAYA® OYSTER SAUCE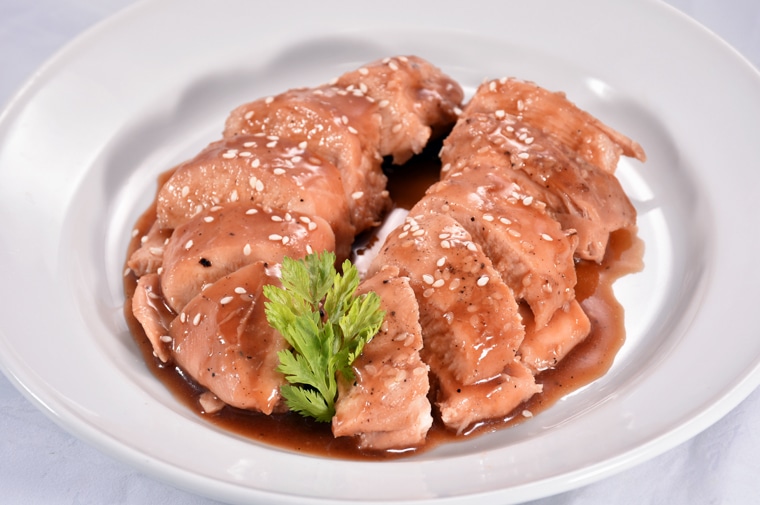 Ingredients
2 packs (60 g) SARSAYA® Oyster Sauce
2 tablespoons (30 g) Ginger, sliced
4 tablespoons (60 g) Garlic, sliced
1 tbsp (15 g) Sesame Oil
1 pinch (1 g) Salt
1 pinch (1 g) Pepper
2 cups (700 g) Chicken fillet
1 stalk (3 g) Cilantro
1/2 tablespoons (10 g) Sesame Seeds
NUTRITION INFORMATION
Nutrition Facts
Calories per Serving (kcal)
162
Carbohydrates (g)
6.1
Proteins (g)
14.6
Fat (g)
8.5
Dietary Fiber (mg)
0.3
Calcium (mg)
19
Iron (mg)
1.3
Sodium (mg)
672.2
Preparation and Cooking time: 30 minutes
Procedure
MARINATE. In a bowl, mix SARSAYA® Oyster Sauce, ginger, garlic, sesame oil, salt, pepper and chicken. Marinate for at least half an hour or overnight.
BOIL at least 1 Liter of water in a steamer.
WRAP the marinated chicken fillet with aluminum foil, add cilantro leaves and sprinkle some sesame seeds on top of the chicken.
STEAM wrapped chicken with aluminum foil and steam for at least 15 minutes to 30 minutes or until cooked.
SERVE while it's hot.
Makes: 5 servings
Serving size:  160 grams per serving
Cooking Tips
When its about to steam the chicken fillet don't include the garlic and ginger, it may affect the taste and mostly give a strong taste to the chicken.
Product Used