STEAMED TILAPIA RECIPE
AJI-NO-MOTO® UMAMI SEASONING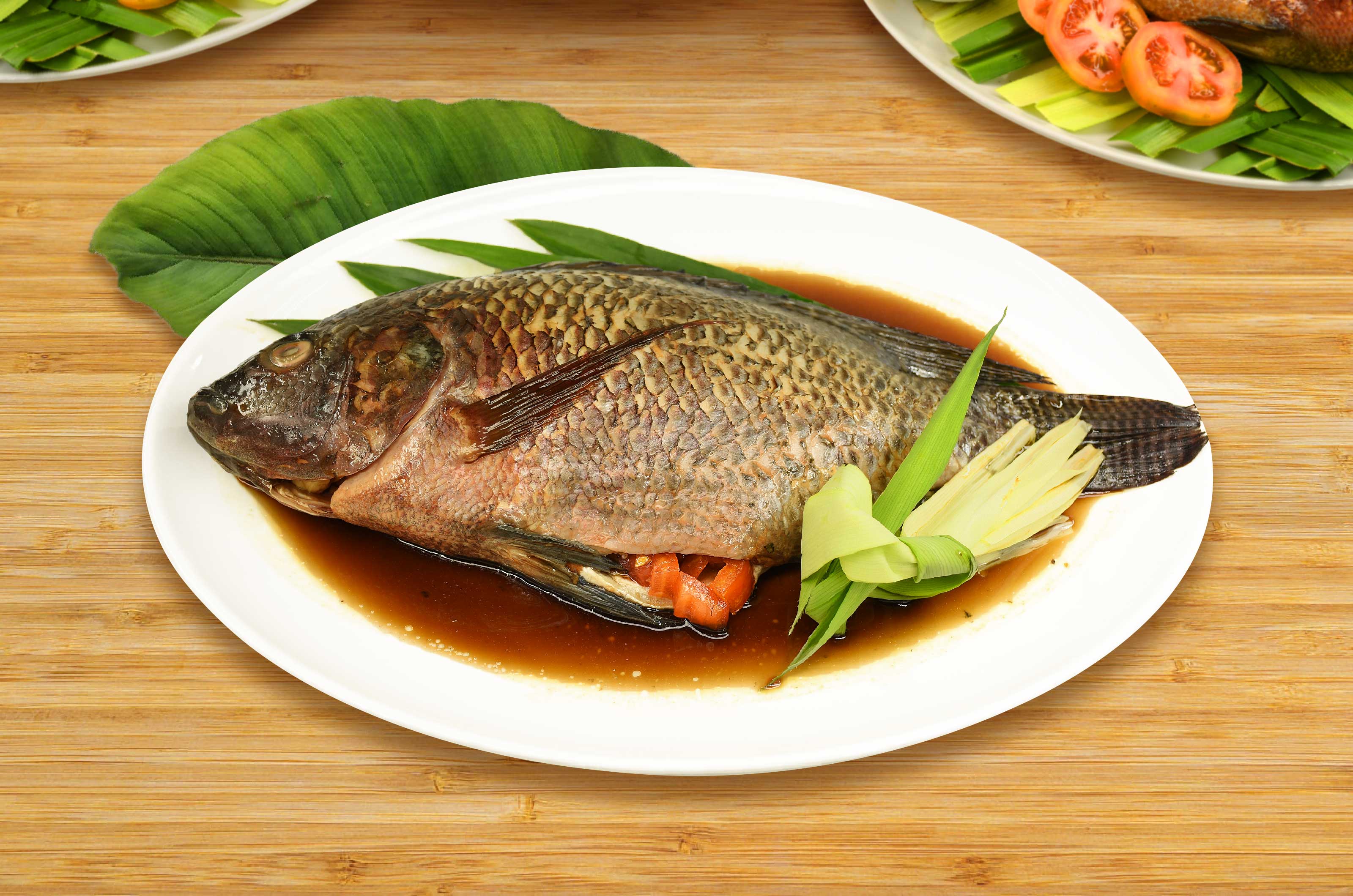 Ingredients
1 piece (333 grams) Tilapia
1/2 pack (5.50 grams) AJI-NO-MOTO® Umami Seasoning
1 Tablespoon (15 ml) Sesame Oil
2 bundles (20 grams) Pandan Leaves
1 piece (56.50 grams) Leeks, sliced
1 piece (50 grams) Onion, diced
1 Tablespoon (10 grams) Ginger, minced
1 piece (41.41 grams) Tomato, cubed
1 Tablespoon (15 ml) Soy sauce
NUTRITION INFORMATION
Nutrition Facts
Calories per serving (kcal)
191.6
Carbohydrates (g)
4.1
Proteins (g)
22.1
Fat (g)
9.6
Dietary Fiber (g)
1.1
Calcium (mg)
118.5
Iron (mg)
3
Sodium (mg)
574.4
Good to Know Nutrition Facts!
> Low Fat Meal Set: Rice + Banana + Steamed Tilapia
>Tilapia is a low fat protein source that is also rich in omega 3 fatty acids which have been directly linked to lowering cholesterol and triglyceride levels in the body.
Preparation time: 15 minutes
Cooking time: 45 minutes
Procedure
SEASON. Season tilapia with AJI-NO-MOTO® and sesame oil.
WRAP. On an aluminum foil make a bed of pandan leaves and place tilapia on top. Stuff the fish with leeks, onion, ginger, and tomatoes and wrap the fish.
STEAM. In a steamer's base, boil water and put few pieces of vegetable ingredients in the boiling water. Place a colander on top and put the wrapped fish inside. Cover until cooked.
SERVE. Remove from the steamer, place on a serving platter, pour soy sauce and serve hot.
Makes 3 servings
Serving size: 1 slice (45 grams)
Cooking Tips
After steaming the fish, discard the cloudy bitter juice to reduce the natural bitter taste of the fish.
Product Used