STIR FRIED CHICKEN FAJITA RECIPE
AJINOMOTO® BRAND GINISA FLAVOR SEASONING MIX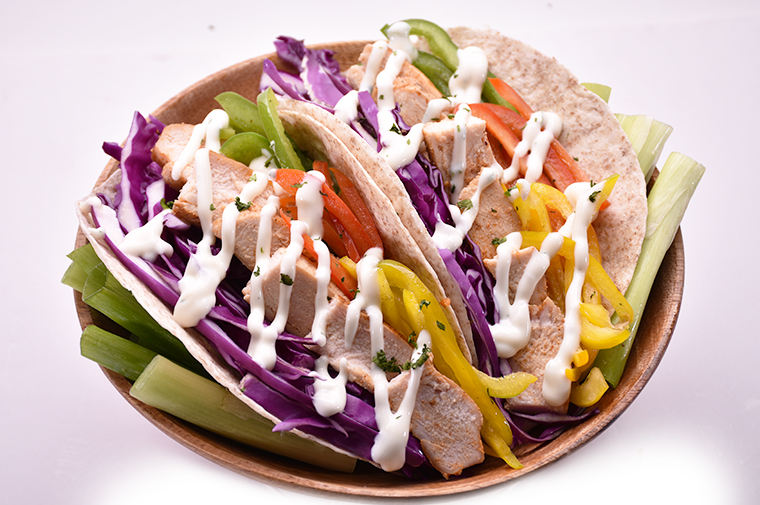 Ingredients
2 Tbsps (30ml) Cooking oil
1 cup (130g) Chicken breast fillet, strips
1/2 cup (100g) Red bell pepper, sliced
1/2 cup (100g) Green bell pepper, sliced
1/2 cup (100g) Yellow bell pepper, sliced
1 pack (7g) AJI – GINISA® Flavor Seasoning Mix
1/3 cup (70g) Sour cream
1 Tbsp (10g) Cilantro leaves, chopped
1 pc (1ml) Lime, juiced
10 pcs (10g) Wheat flour tortilla
1 cup (150g) Purple cabbage, thinly sliced
NUTRITION INFORMATION
Nutrition Facts
Calories per serving (kcal)
75.1
Carbohydrates (g)
3.9
Proteins (g)
3.6
Fat (g)
5
Dietary Fiber (g)
1
Calcium m(g)
24.7
Iron (mg)
0.4
Sodium (mg)
190.4
Good to Know Nutrition Facts!
Chicken Breast is a Low Fat Source of Protein that promotes muscle and tissue repair.
Preparation time: 10 minutes
Cooking time: 10 minutes
Procedure
SAUTÉ. In a pan, saute chicken in heated oil. Add red, green, and yellow bell peppers. Season with 
AJI – GINISA®. Set aside.
MIX. To make the sour cream cilantro sauce, add sour cream, cilantro leaves, and lime juice In a small bowl. Mix well then set aside.
ASSEMBLE. In a large plate, assemble tortilla wrapper, sauteed chicken bell peppers, and purple cabbage. Drizzle with sour cream cilantro sauce.
SERVE and enjoy.
Makes 10 servings
Serving size: 1 pc (70g) Chicken Fajita
Cooking Tips
Don't overcook chicken breast fillet to keep its juiciness.
Product Used