STIR-FRY CAMOTE TOPS W/ OYSTER SAUCE RECIPE
SARSAYA® OYSTER SAUCE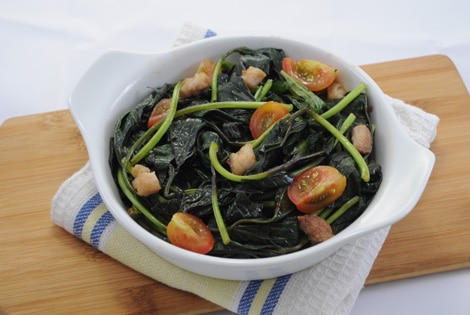 Ingredients
2 teaspoons cooking oil
1/4 cup liempo, thin strips
1 tablespoon garlic, sliced
1/4 cup tomato, big dice
1/2 cup camote tops, stem, trimmed
2 cups camote tops
1 tablespoon water
1 pack (30g) SARSAYA®Oyster Sauce
NUTRITION INFORMATION
Nutrition Facts
Calories per Serving (kcal)
94
Carbohydrates (g)
3
Proteins (g)
7
Fat (g)
3
Dietary Fiber (g)
0.99
Calcium (mg)
31.01
Iron (mg)
2.14
Sodium (mg)
40.26
Preparation and cooking time: 30 minutes
Procedure
SAUTÉ. In a hot wok or pan add oil and saute liempo until brown then add garlic, tomato, and camote tops until vegetables are soften.
STIR-FRY. Add camote tops leaves together with water and SARSAYA® Oyster Sauce. Cook until desired consistency of sauce is achieved. Serve hot.
Makes 3-4 servings
Serving size: 1 cup (180g) Camote Tops
Cooking Notes
Cherry tomato can be use for sweeter tomato flavor and for better appearance
Only use the soft stems of the camote tops since the tough part of the stem are more fibrous hence may not be desired.
Product Used