STIR-FRY PECHAY WITH TOFU RECIPE
AJINOMOTO® BRAND GINISA FLAVOR SEASONING MIX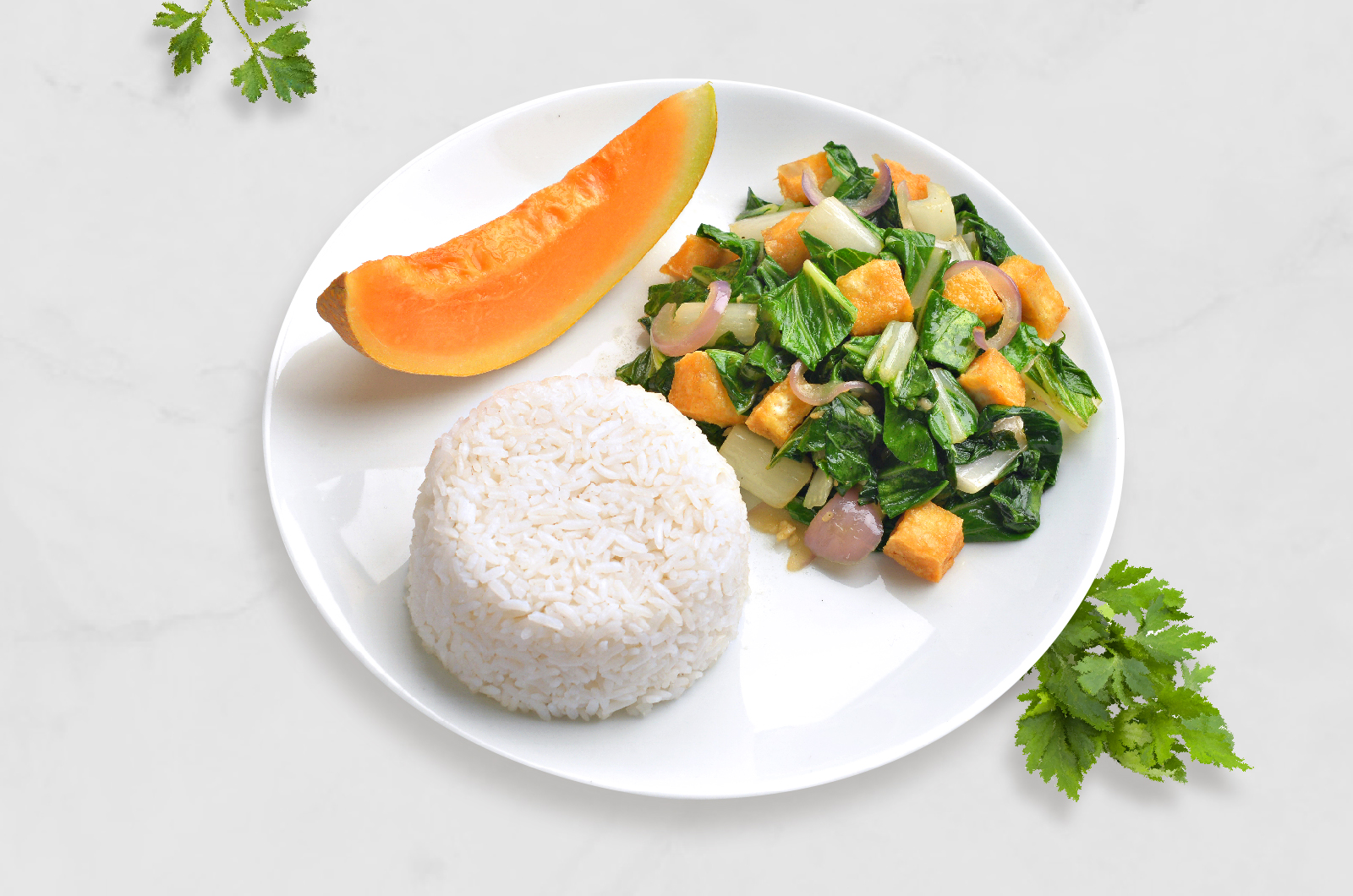 Ingredients
1/2 cup (125 ml) Cooking oil
5 pieces (250 grams) Tokwa (Hard Tofu), cubed
1/4 cup (35 grams) Onion, sliced
1 tablespoon (12 grams) Garlic, minced
5 bunches (400 grams) Pechay Tagalog, sliced
2 tablespoons (30 ml) Water
1 tablespoon (15 ml) Soy sauce
To taste Black pepper, ground
6 belly slices (350 grams) Bangus
1 cup (100 grams) Bitter gourd, sliced
1 pack (7 grams) AJI-GINISA® Flavor Seasoning Mix
NUTRITION INFORMATION
Nutrition Facts
Calories per serving
476
Carbohydrates (g)
63.2
Proteins (g)
16.4
Fat (g)
17.4
Phosphorus (mg)
236
Calcium (mg)
331
Iron (mg)
7
Vitamin A (m g RE)
641
Thiamin (mg)
0.18
Riboflavin (mg)
0.21
Niacin (mg NE)
6.1
Vitamin C (mg)
122
Procedure
1. FRY. In pan, heat oil and fry the tokwa until golden brown. Set aside.
2. SAUTÉ. In the same pan, remove excess oil and sauté onion, garlic and pechay. Add water.
3. SEASON with soy sauce, ground black pepper and AJI-GINISA®.
4. SERVE with fried tofu.
No. of Servings: 5 servings
Serving size: 1 cup (90 grams)
Meal Serving Idea: 1 cup Rice, 1 cup Stir-fry Pechay with Tofu, 1 slice Melon
Cooking Tips
Avoid overcooking your leafy greens to preserve its nutrients and crispness.
Product Used