STUFFED BREAKFAST PEPPERS
PORKSAVOR® ALL-IN-ONE SEASONING MIX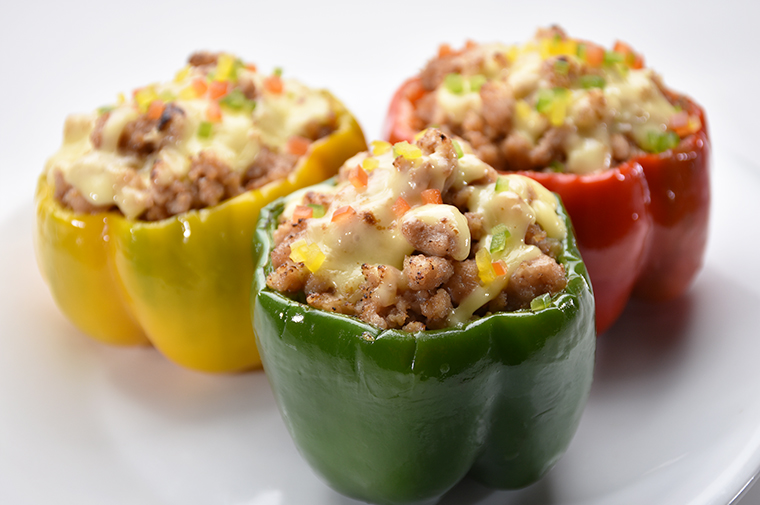 Ingredients
1 Tbsp (15ml) Cooking oil
1 Tbsp (15g) Red onion, chopped
1 tsp (5g) Garlic, minced
3/4 cup (180g) Ground pork
1 pack (8g) Porksavor ® All-in-One Seasoning Mix
1 pc (130g) Medium-sized Red bell pepper, seeded
1 pc (130g) Medium-sized Green bell pepper, seeded
1 pc (130) Medium-sized Yellow bell pepper, seeded
6 pcs (6) Egg, beaten
1 cup (90) Cheese, grated
NUTRITION INFORMATION
Nutrition Facts
Calories per serving
211.1 Calories
Carbohydrates (g)
5.9 grams
Proteins (g)
8 grams
Fat (g)
 17.3 grams
Dietary Fiber (g)
 1.1 gram
Calcium m(g)
129.9 milligrams
Iron (mg)
 0.6 milligrams
Sodium (mg)
534.6 milligrams
Good to Know Nutrition Facts!
Bell Peppers promotes regulation of body functions. It is rich in Vitamins B6, B9, A, C, E, & K.
Preparation
Makes: 6 servings
Procedure:

PRE-HEAT. Pre heat oven at 350 °F for 10-15 minutes.
SAUTE. In a pan, heat oil. Saute onion, garlic, and ground pork for a few minutes. Season with Porksavor® All-in-one Seasoning Mix. Set aside.
ASSEMBLE. In a roasting pan, assemble bell peppers. Fill each pepper with sauteed pork then add egg. Top with cheese.
BAKE . Place roasting pan in a pre-heated oven for 15-20 minutes and bake until cheese is melted.
SERVE. Place baked peppers in a serving plate and enjoy.
Cost
Recipe Cost: Php 184.50
Cost per Serving: Php 30.75
Cooking Tips
You can explore using different types of cheese as toppings such as cheddar and mozzarella.
Product Used