Stuffed Chicken
AJI-NO-MOTO® UMAMI SEASONING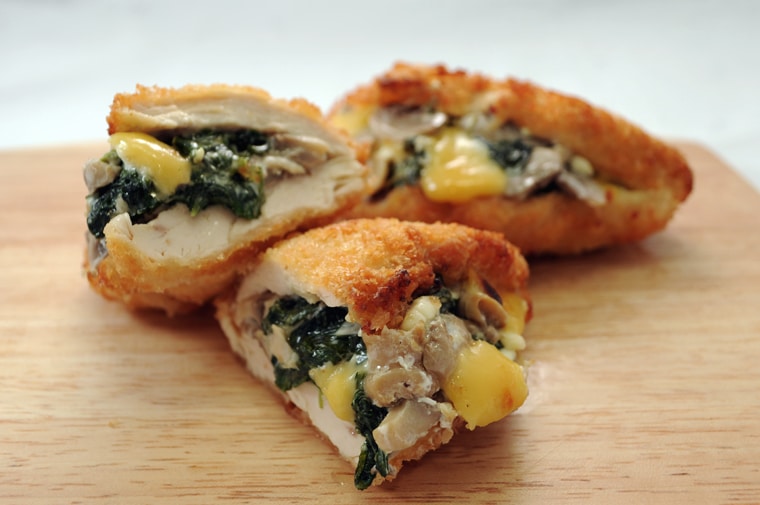 Ingredients
600ml cooking oil
600g chicken breast, butterfly cut, skinless
1/2 cup 70g flour
1/2 teaspoon 3g salt
2 pieces 100g egg, beaten
1/2 pack 6g Aji-no-moto® Umami Seasoning
2 cups 140g bread crumbs
Stuffing
2 teaspoons 10ml cooking oil
1.5 tablespoon 25g garlic, minced
2 1/2 cup 75g spinach, leaves
1/2 cup 50g cream cheese
1/2 cup 100g mushroom, canned, small diced
1/2 pack 6g Aji-no-moto® Umami Seasoning
1 cup 200g cheese, quickmelt
Preparation
Preparation and Cooking Time: 20-30 minutes Makes: 4-6 servings
Serving size: 1 piece chicken 100-120g. 40-50g spinach mushroom mixture
Procedure
Stuffing
SAUTE. On a medium heat pan, add oil and saute garlic, mushroom, and spinach, cook until spinach are wilted.
SEASON. Mixture with 1/2 pack Aji-no-moto® Umami Seasoning mix well and transfer into a bowl.
MIX. In cream cheese, mix well until cream cheese is well spreaded throughout the mixture. Set aside.
SET. Pour flour, egg, and breadcrumbs on individual plates.
SEASON. flour with salt and 1/2 pack Aji-no-moto® Umami Seasoning.
STUFF. Place chicken on a plate and open up. Stuff in 40-50g spinach mushroom mixture and top with 2-3 tablespoons quickmelt cheese then close tightly.
COAT. Chicken first on the flour then on the egg and lastly on the breadcrumbs. Set aside.
DEEP-FRY. On a pot, pour oil and heat it until 350ºF. Then, lay in chicken in the oil gently without overcrowding the pot. Maintain 300ºF-350ºF temperature. Cook for 10minutes.
STRAIN. out the chicken and let it rest on a tray or with tissue paper. Serve hot.
Cooking Notes
You may slice the chicken horizontally if the butterfly cut is still thick.
NUTRITION INFORMATION
Nutrition Facts
Calories per Serving
568
Carbohydrates (g)
31
Proteins (g)
36
Fat (g)
33.4
Dietary Fiber (g)
2.1
Calcium (mg)
429
Iron (mg)
4.5
Sodium (mg)
1018.4
Product Used