SUAM NA MAIS
PORKSAVOR® ALL-IN-ONE SEASONING MIX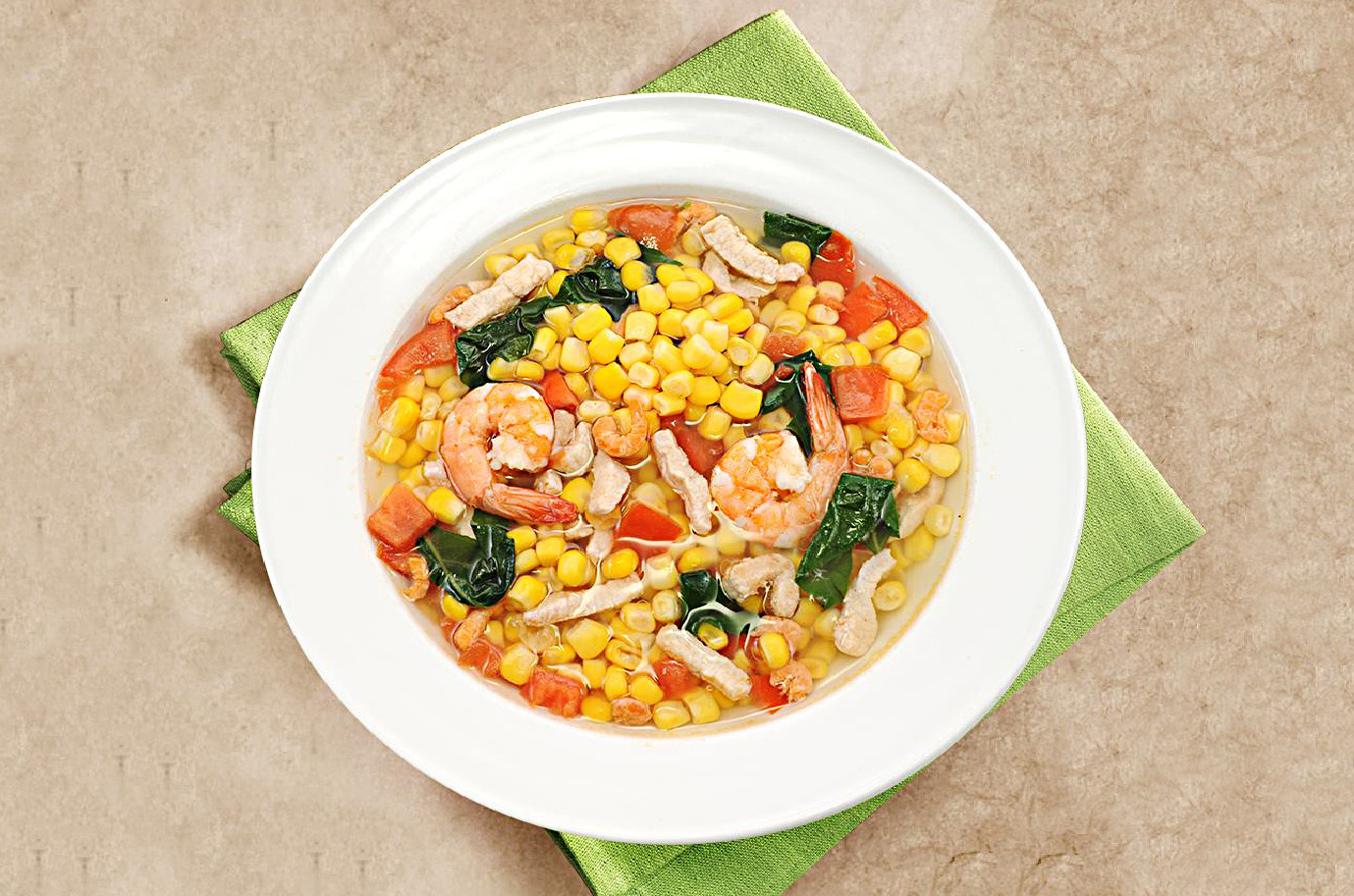 Ingredients
1/4 cup (60ml) Vegetable oil
1 cup (100g) Onions, sliced
1/4 cup (60g) Garlic, minced
1/2 cup (40g) Tomatoes, chopped
1/3 cup (30g) Hibe, rehydrated in 1/4 cup water then minced
1 cup (250g) Lean pork, cut in small strips
3 1/4 cups (450g) Sweet corn kernels
3 cups (750ml) Water
1 cup (250g) Shrimps, peeled and cut in small pieces
1 pack (8g) PORKSAVOR® ALL-IN-ONE SEASONING MIX
1 Tbsp. (15ml) Fish sauce
1/2 tsp. (2g) Salt
1/4 tsp. (1g) Pepper, ground, black
5 cups (200g) Sili leaves, well-cleaned
NUTRITION INFORMATION
Nutrition Facts
Calories per serving (kcal)
318
Carbohydrates (g)
33
Proteins (g)
16
Fat (g)
13
Dietary Fiber (g)
6
Calcium (mg)
171
Iron (mg)
3
Sodium (mg)
695
Good to Know Nutrition Facts!
Corn is a good source of Carotenoids, Lutein and Zeaxanthin which maintain good eye health.
Preparation time: minutes
Cooking time: minutes
Procedure
SAUTÉ. In a pan heat oil then sauté, onions and garlic until translucent. Add tomatoes and cook until it softens. Add hibe and pork, cook until tender.
BOIL & SIMMER. Add corn kernels and water. Let it boil. Add shrimps then simmer for another minute.
SEASON. Add PORKSAVOR®, fish sauce, salt and pepper. Cover and let it boil for another minute then add sili leaves. Mix well.
SERVE. Transfer to a serving bowl, serve and enjoy.
Makes 7 servings
Serving size: 1 1/2 cups (307g)
Cooking Tips
Aside from sili leaves, you can also use malunggay, spinach, or ampalaya leave for added greens.
Product Used