SWEET AND MEATY SPAGHETTI RECIPE
PORKSAVOR® ALL-IN-ONE SEASONING MIX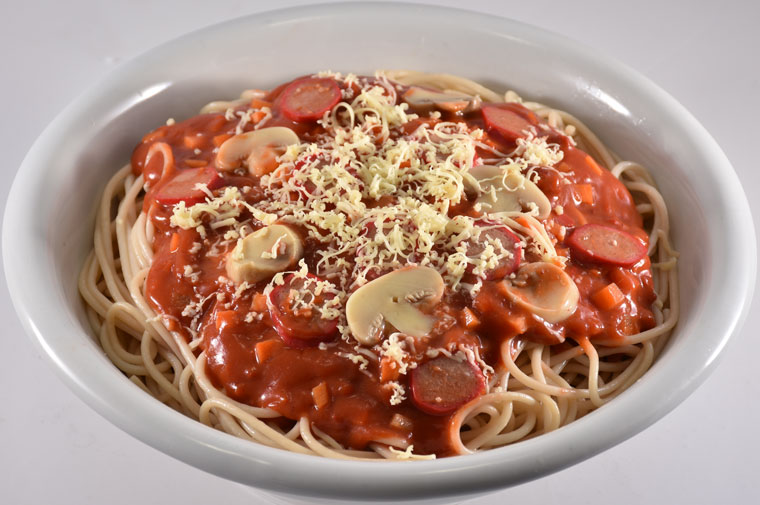 Ingredients
2 tablespoons (30 ml) Cooking Oil
1/4 cup (60 grams) Onion, red minced
1/4 cup (60 grams) Garlic, minced
1 cup (250 grams) Beaf, lean, ground
4 pcs (164 grams) Hotdog, chopped
1/2 cup (100 grams) Button Mushroom, chopped
1/2 cup (100 grams) Carrots, minced
1 pack (8 grams) PORKSAVOR® All-in-one Seasoning Mix
3 tablespoons (45 grams) Liver Spread
3 cups (750 ml) Tomato Sauce, Filipino style
3/4 cup (180 ml) Milk, condensed
1 tablespoon (15 ml) Cooking Oil
2 liters (2000 ml) Water
1/2 kilo (500 grams) Pasta, spaghetti
1/2 cup (50 grams) Cheese, grated
NUTRITION INFORMATION
Nutrition Facts
Calories per serving (kcal)
555.2
Carbohydrates (g)
71.1
Proteins (g)
22.4
Fat (g)
20.2
Dietary Fiber (g)
3.5
Calcium m(g)
295.7
Iron (mg)
5.5
Sodium (mg)
1587.6
Good to Know Nutrition Facts!
Tomato and tomato products such as tomato sauce, tomato paste, etc., is a good source of Vitamin C and antioxidants that helps boost immune system and lowers the risk of cancer. It also contains lycopene which helps improve heart health.
References: United States Department of Agriculture (USDA) – Food Composition Database, Philippine Food Composition Tables (Phil FCT) and Philippine Food Exchange List (Phil FEL)
Preparation and cooking time: 1 hour
Procedure
HEAT oil in a sauce pan. Saute onion and garlic, add beef, hotdog, mushroom,carrots and PORKSAVOR®. Mix well until cooked and fragrant. .
ADD liver spread, tomato sauce and milk. Let it simmer for 5-10 minutes. Set aside.
BOIL water with oil then add pasta and cook until tender and set aside.
SERVE cooked spaghetti pasta with sauce and grated cheese on top. Enjoy!
Makes 6 servings
Serving size: 1 cup (200g) Pasta & 1 cup (100ml) Sauce
Cooking Tips
Bring water in a rapid boil before putting your pasta. Stir to prevent from sticking together or from sticking to the bottom part of the pot.
Product Used