SWEET AND SOUR FISH FILLET RECIPE
SARSAYA® SWEET AND SOUR SAUCE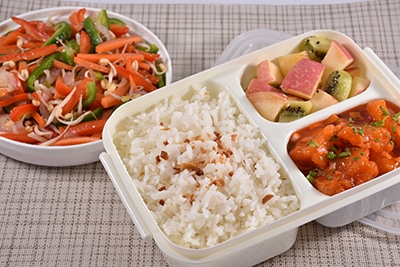 Ingredients
1 cup 140g cornstarch
400g fish fillet, dory, cube
1/2 liter 500ml cooking oil
1/4 cup 35g green bell pepper, big dice
1/4 cup 40g red bell pepper, big dice
1/2 cup 120g onion, sliced
2 tablespoons 24g garlic, minced
to taste pepper
1 teaspoon 5ml soy sauce
1 pack 200g SARSAYA® Sweet and Sour Sauce
Yasai Itame Vegetable Side
2 tablespoons 30ml cooking oil
1/2 cup 70g onion
2 tablespoons 24g garlic
1 cup 100g carrot, sliced
1 cup 85 red and green bellpepper, sliced
2 cups 100g cabbage, shredded
2 cups 100g toge
1/2 tablespoon 7ml soy sauce
to taste pepper
1 pack 7g AJI-GINISA® Flavor Seasoning Mix
NUTRITION INFORMATION
Nutrition Corner – Chicken Meatballs
Calories per Serving (kcal)
374
Carbohydrates (g)
44.50
Proteins (g)
19.4
Fat (g)
12.3
Dietary Fiber (g)
1.6
Calcium (mg)
98
Iron (mg)
1.6
Sodium (mg)
180.7
Good to Know Nutrition Facts!
Fishes are good protein substitutes to your red meats.
Plate Composition
1 cup rice
1 serving Fish Fillet
1 Serving Yasai Itame
1/2 piece apple combined with a piece of kiwi
Preparation and Cooking time: 30 minutes
Procedure
Sweet and Sour Fish
COAT. The fish fillet with cornstarch then set aside.
FRY. On a pan, pour and heat oil up to 350 F or until oil is hot enough to fry. Place the fish one by one on the fryer and let it cook until done and it is golden brown. Strain and set aside.
SAUTÉ. On a separate pan, add 1 tablespoon of cooking oil and saute onion, bell peppers, and garlic until vegetables are fragrant. Then, add SARSAYA® Sweet and Sour Sauce, soy sauce, and pepper. Lastly, add the fried fish and toss the fish with the sauce until it is fully coated with the sauce. Serve hot.
Yasai Itame
SAUTÉ. On a hot pan, add oil and saute onion and garlic until fragrant.
STIR-FRY. carrot and bell pepper until vegetables are almost cooked. Add toge and cabbage and stir-fry for another minute.
SEASON. with pepper, soy sauce, and AJI-GINISA® .
Makes 5 servings (1 cup 165g fish each) with 1/2 cup 80g vegetable
Serving size: 820g fish fillet and 400g Yasai Itame
Cooking Tips
Make sure to add the fried fish fillet to the sauce while it is still hot so that it will be coated better.
Product Used