TEX-MEX BREAKFAST BOWL
AJINOMOTO® BRAND GINISA FLAVOR SEASONING MIX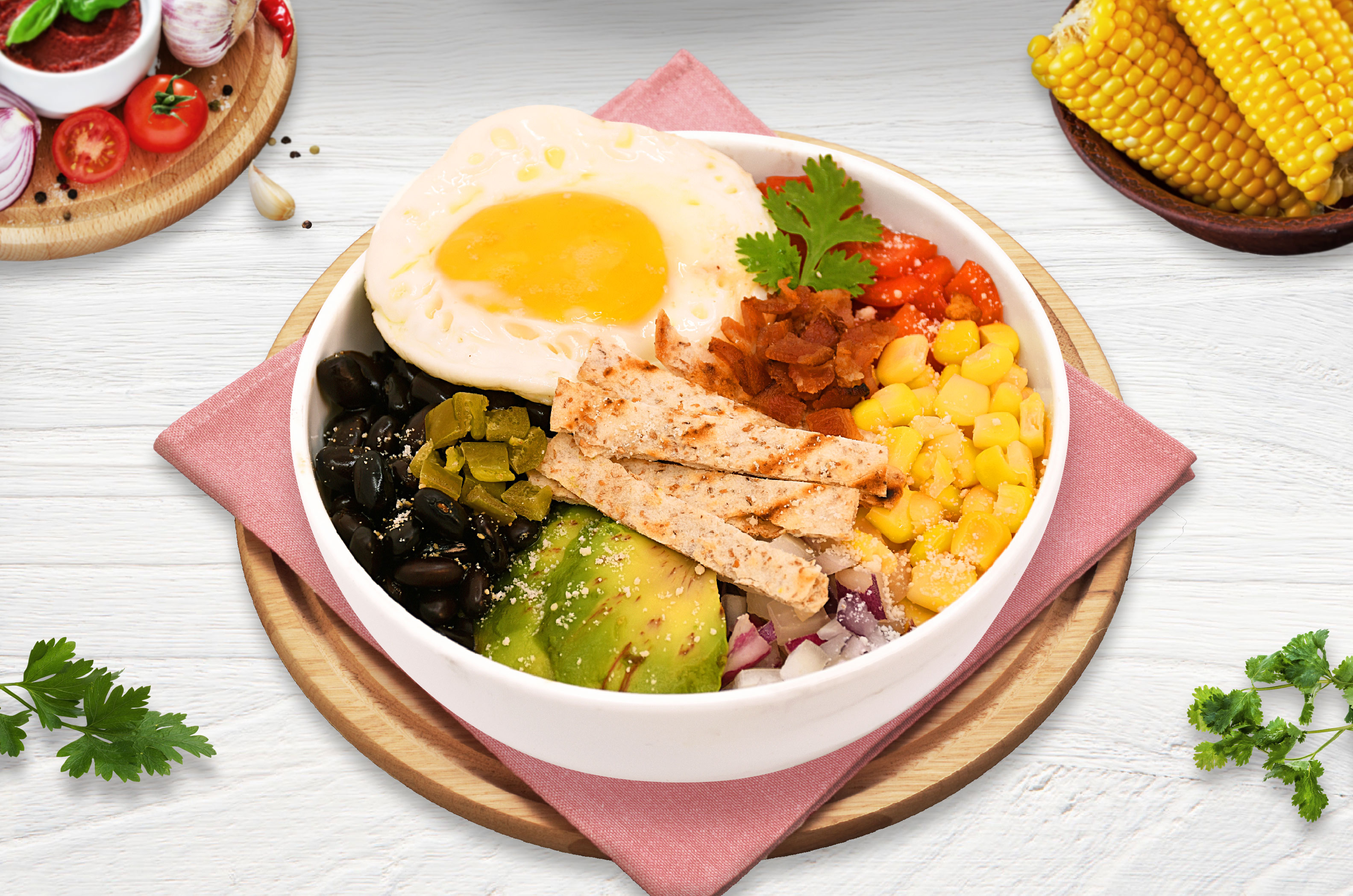 Ingredients
2 cups (500g) Black Beans, canned, rinsed, drained
1 cup (186g) Tomatoes, chopped
1/2 cup (72g) Onion, chopped
2 cloves (5g) Garlic, minced
2 Tbsps. (12ml) Lime Juice
2 Tbsps. (24g) Jalapeno, chopped (optional)
1 pc (99g) Avocado, chopped
1/2 cup (90g) Corn, canned, rinsed, drained
1/3 cup (5g) Cilantro, chopped
1/2 cup (70g) Bacon, fried, chopped
1 pack (7g) AJI-GINISA® All-in-One Seasoning Mix
2 pcs. (56g) Soft Tortillas, strips
1/4 cup (23g) Cheese, grated
NUTRITION INFORMATION
Nutrition Facts
Calories per serving (kcal)
168.8
Carbohydrates (g)
19.5
Proteins (g)
6.3
Fat (g)
7.2
Dietary Fiber (g)
3.5
Calcium (mg)
79.8
Iron (mg)
2.0
Sodium (mg)
608.4
Good to Know Nutrition Facts!
Black beans are good sources of Protein, Folate, Calcium, Potassium, Zinc, B Vitamins and Antioxidants that are all necessary for maintaining a healthy body.
Preparation time: 15minutes
Cooking time: 0 minutes
Procedure
ASSEMBLE.  In each serving bowl, place black beans, tomatoes, onion, garlic, lime juice, jalapeno, avocado, corn, cilantro, and bacon.
SEASON. Add AJI-GINISA®, to season the ingredients.
SERVE. Top with tortilla and cheese. Serve and enjoy.
Makes 8 servings
Serving size: 1 cup (130g)
Cooking Tips
You can also add fried egg on top for added savory taste. (optional)
Product Used