THAI CRISPY FISH SALAD
CRISPY FRY® FISH BREADING MIX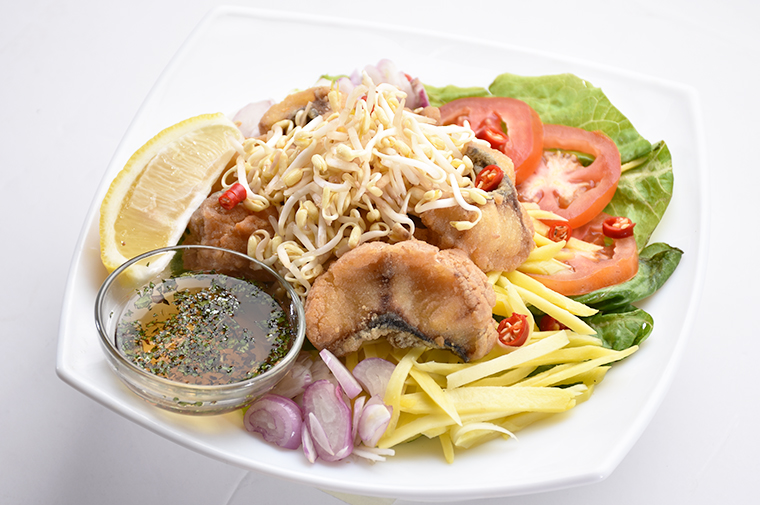 Ingredients
For the Salad:
1/2 kilo (500g) Catfish, fillet
1 pack (20g) Crispy Fry® Fish
2 cups (500ml) Cooking oil
1/4 kilo (250g) Romaine lettuce
1 cup (180g) Tomato, sliced
1 cup (165g) Green mango, thinly strips
1/2 cup (50g) Shallots, sliced
1/2 tbsp (3g) Chili, chopped
1 cup (100g) Bean sprout, washed
For the Sauce:
1/8 cup (30ml) Calamansi, juiced
1/8 cup (30ml) Fish sauce
2 tbsps (30g) Coconut sugar
1/8 cup (30ml) White vinegar
1 tbsp (3g) Cilantro, minced
NUTRITION INFORMATION
Nutrition Facts
Calories per serving
 508.4 Calories
Carbohydrates (g)
26.7 grams
Proteins (g)
27.3 grams
Fat (g)
32.5  grams
Dietary Fiber (g)
2 gram
Calcium m(g)
156.5  milligrams
Iron (mg)
 4.4 milligrams
Sodium (mg)
982 milligrams
Good to Know Nutrition Facts!
Catfish is rich in Omega-3 that promotes heart health.
Preparation
Makes: 4 servings
Procedure:

COAT. In a bowl, coat fish evenly with Crispy Fry® Fish.
DEEP – FRY. Using a deep pan, fry fish in hot oil until crispy and golden brown. Drain and set aside.
ASSEMBLE . In one serving platter, arrange lettuce and top with fried fish, tomatoes, mangoes, shallots, and chili. Set aside.
COMBINE. For the sauce, combine calamansi, fish sauce, sugar, vinegar and cilantro in a bowl, mix well.
SERVE fish salad with the sauce and ENJOY!
Cost
Recipe Cost: Php 100.38
Cost per Serving: Php 25.09
Cooking Tips
An alternative for the catfish is the tilapia fillet.  You can also use brown or white sugar instead of coconut sugar.
Product Used