THAI JOK RECIPE
PORKSAVOR® ALL-IN-ONE SEASONING MIX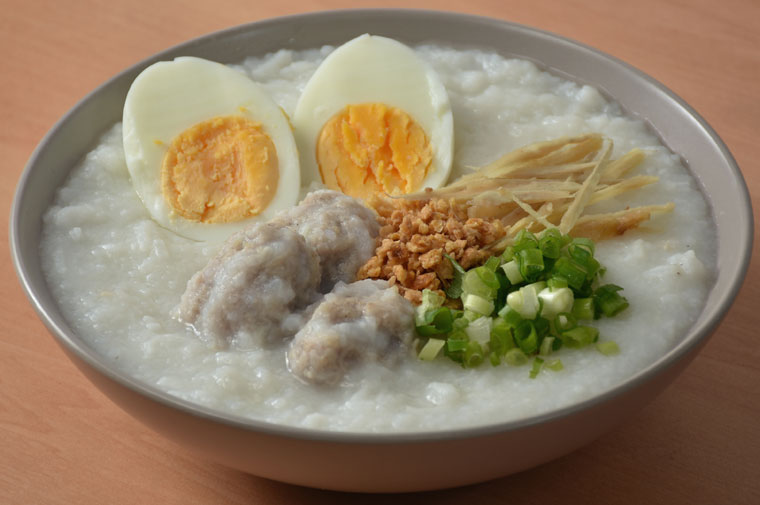 Ingredients
1 tablespoon, 15g Garlic, minced
1/2 teaspoon. 2g Pepper, powder
1/2 kilo, 500g Pork, ground
1 tablespoon, 15ml SARSAYA® Oyster Sauce
1 teaspoon, 5ml Soy Sauce
2 cups, 400 Rice, cooked
1 1/2 cup, 360ml Water
2 cups, 1440 Water
1 pack, 8g PORKSAVOR ® All-in-one Seasoning Mix
2 tablespoons, 30g Garlic, toasted
2 tablespoons, 30g Ginger, thinly sliced
2 pcs Eggs, hard boiled
2 tablespoons, 20g Spring Onions, sliced
1 tablespoon, 15ml Fish sauce
NUTRITION INFORMATION
Nutrition Facts
Calories per serving (kcal)
378.2
Carbohydrates (g)
24.4
Proteins (g)
16.7
Fat (g)
23.5
Dietary Fiber (g)
0.9
Calcium m(g)
 39.6
Iron (mg)
 2.0
Sodium (mg)
631.7
Nutrition Tips
Congee is considered a "healing food" especially for those with weakened digestion and low immune system.It has a good source of protein, fats and carbohydrates.
Ginger can be used to help colds and flus as it warms the body and promotes healthy sweating  to aid detoxification. Ginger also contains anti-inflammatory and antioxidant properties.
Reference: https://www.thehealthyhomeeconomist.com/thai-congee-soup-recipe/
Preparation and Cooking time: 1 hour
Procedure
MIX together garlic, pepper, ground pork, SARSAYA®Oyster Sauce and soy sauce. Blend well until soft and sticky. Cover and refrigerate dumpling mixture.
PUREE rice with 1 1/2 cups water and blend to a coarse puree. Transfer in a casserole,add water or soup stock , boil pureed rice then lower the fire.
FORM dumpling mixture into balls by scooping 1/2 tablespoon of the mixture per ball and drop them into bubbling congee one at a time until all the dumplings have firmed up and well – cooked.
SEASON with PORKSAVOR®  and let it boil for another 3 minutes.
SERVE with toasted garlic,ginger , hard- boiled egg, spring onions. Add patis to taste. Serve and enjoy.
Makes 6 servings
Serving size: 1 cup (130g) Rice Porridge, 1 slice (20g) Egg, 3 pcs (60g) Meat Balls
Cooking Tips
Don't break up the pork too much. You'll want larger pieces for texture and flavor. If they are too small, they'll be lost in the texture of the rice.
Product Used