THAI PEANUT CHICKEN NOODLES RECIPE
AJI-NO-MOTO® UMAMI SEASONING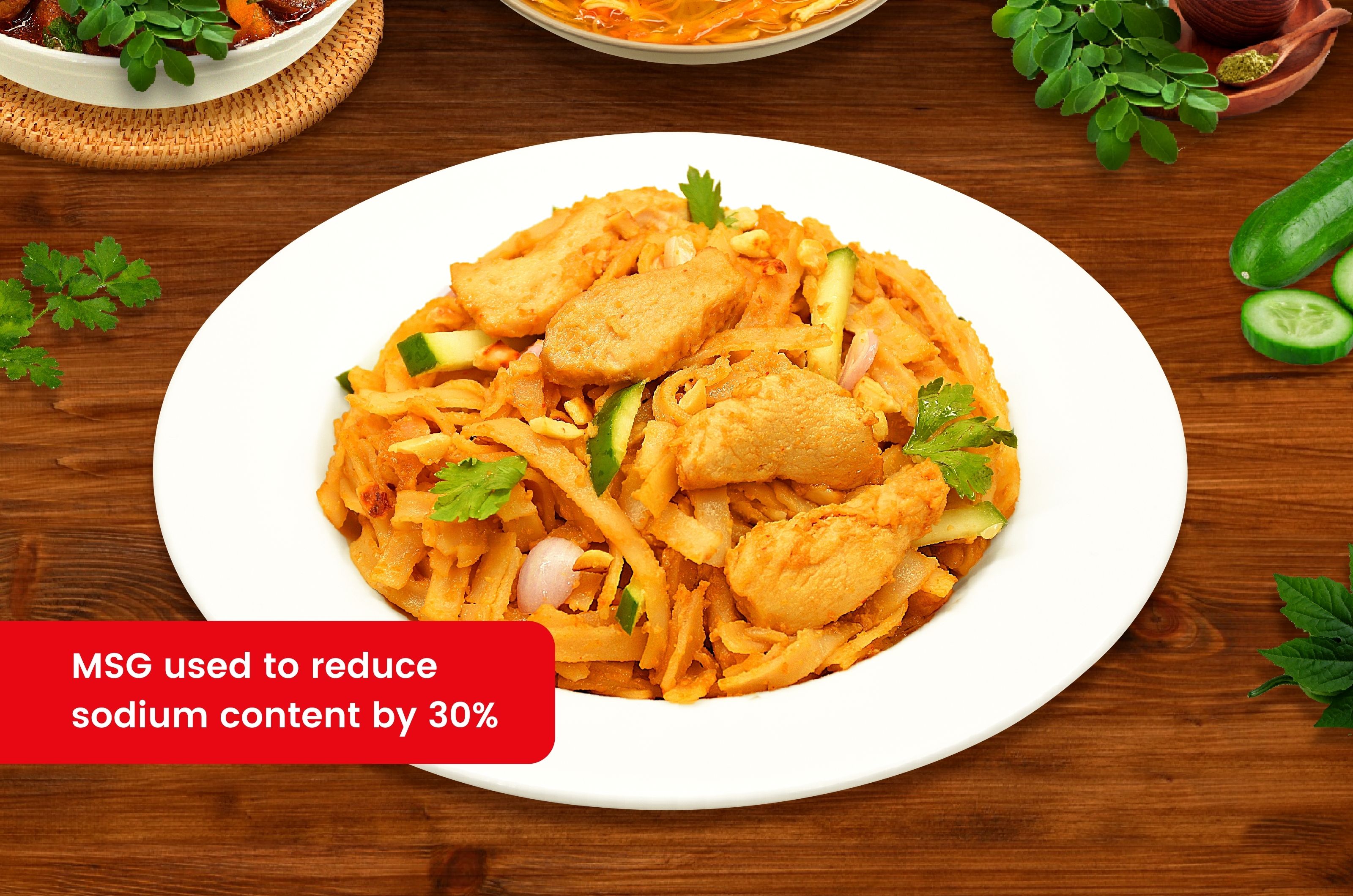 Ingredients
For Peanut Butter Sauce:
3 Tablespoons (45 ml) Soy sauce
3 Tablespoons (45 ml) Vinegar
2 Tablespoons (30 grams) Garlic, minced
1 Tablespoon (15 ml) Sriracha chili sauce
1 Tablespoon (15 ml) Sesame oil
1 cup (200 grams) Peanut butter, unsweetened
For Chicken Noodles:
2 Tablespoons (30 ml) Oil
4 Tablespoons (60 grams) Red onion, sliced
1/2 kilo (500 grams) Chicken breast, thinly sliced
5 cups (500 grams) Rice noodles, soaked, drained
1 pack (11 grams) AJI-NO-MOTO® Umami Seasoning
1/4 cup (60 grams) Cucumber, thinly sliced
1/4 cup (60 grams) Peanuts, roasted, chopped
Reduced sodium by 30%
Original sodium content: 1/2 cup (120 ml) Soy sauce, 1/2 teaspoon (2.5 grams) Salt
NUTRITION INFORMATION
Nutrition Facts
Calories per serving (kcal)
568.8
Carbohydrates (g)
61.5
Proteins (g)
26.0
Fat (g)
24.3
Dietary Fiber (g)
2.3
Calcium (mg)
65.2
Iron (mg)
2.8
Sodium (mg)
350.7
Good to Know Nutrition Facts!
Chicken is rich in B vitamins that help the body in energy production and in forming healthy red blood cells.
Preparation time: 30 minutes
Cooking time: 15 minutes
Procedure
MIX. In a mixing bowl combine all ingredients to make a peanut butter sauce. Mix well then set aside.
SAUTÉ. In a pan heat oil then sauté onion until soft and fragrant. Add chicken and cook until tender. Add peanut sauce and noodles. Mix well until all noodles are well coated.
SEASON. Add AJI-NO-MOTO® and mix well and cook for a few minutes.
SERVE. Transfer to a serving plate. Garnish with sliced cucumber and top with toasted peanuts. Serve and enjoy.
Makes 8 servings
Serving size: 3/4 cup (135 grams)
Cooking Tips
Don't over soak the noodles in water for a long time to avoid mushy texture.
Product Used