THAI PORK BARBECUE RECIPE
AJI-NO-MOTO® UMAMI SEASONING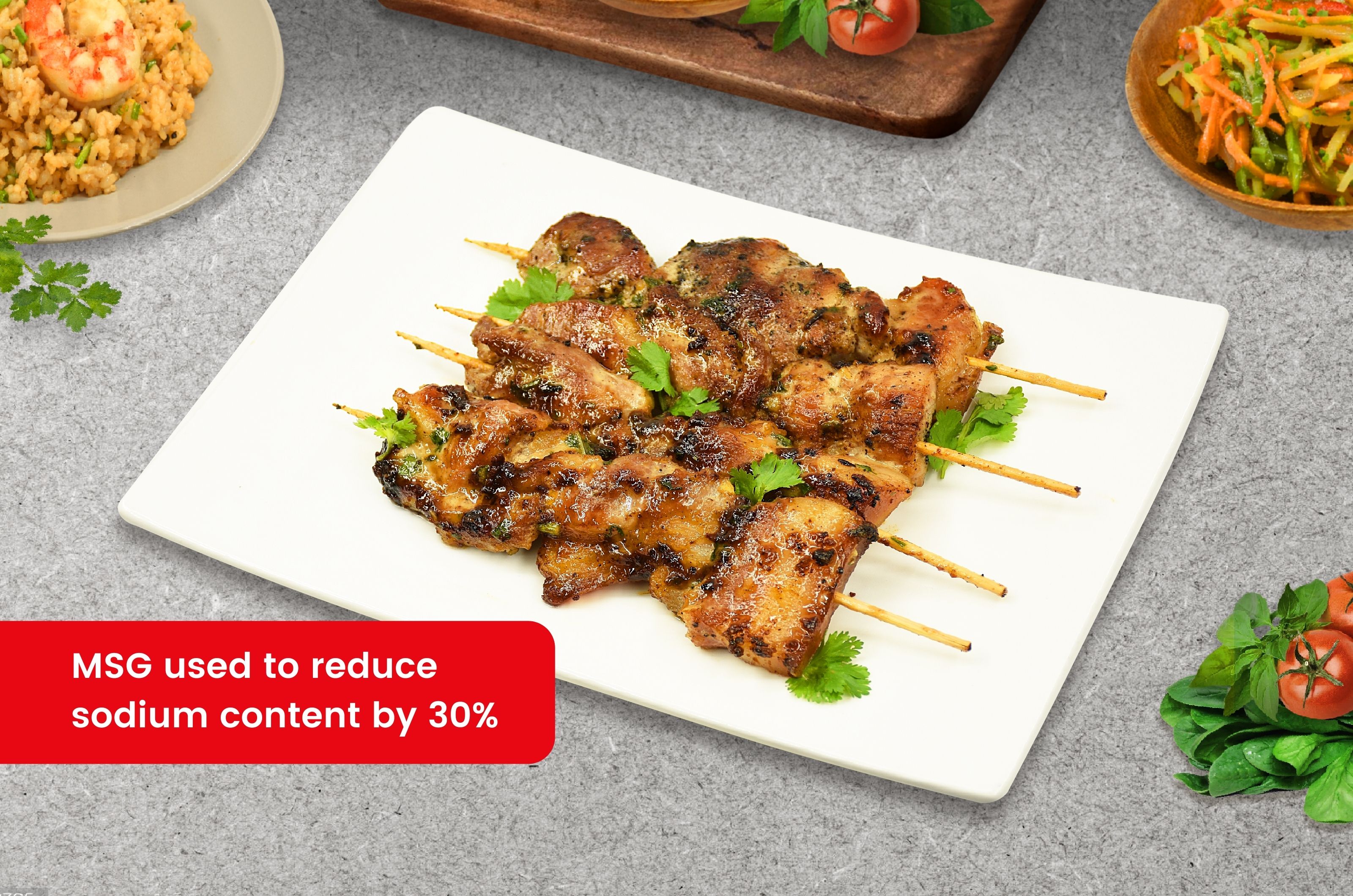 Ingredients
1/2 cup (50 grams) Cilantro, minced
3 Tablespoons (45 grams) Garlic, minced
1 teaspoon (2.5 grams) Pepper, black, ground
2 Tablespoons (30 grams) Coconut sugar
1 Tablespoon (15 ml) Fish sauce
1 cup (250 ml) Coconut milk
1 pack (11 grams) AJI-NO-MOTO® Umami Seasoning
1 pack (600 grams) Pork shoulder, sliced
16-24 pieces (24 grams) Bamboo skewers
Reduced sodium by 30%
Original sodium content: 1/4 cup (60 ml) Fish sauce, 2 Tablespoons (30 ml) Soy sauce
NUTRITION INFORMATION
Nutrition Facts
Calories per serving (kcal)
380.9
Carbohydrates (g)
6.1
Proteins (g)
14.4
Fat (g)
23.4
Dietary Fiber (g)
1.7
Calcium (mg)
53.4
Iron (mg)
3.3
Sodium (mg)
355.9
Good to Know Nutrition Facts!
Pork is naturally rich in Protein which helps the growth of muscles and supports the maintenance of both muscles and bones.
Preparation time: 2 hours
Cooking time: 30 minutes
Procedure
COMBINE. In a mixing bowl combine cilantro, garlic, black pepper, coconut sugar, fish sauce, soy sauce, coconut milk, and AJI-NO-MOTO®.
MARINATE. Add the thin slices of pork shoulder into the mixture and marinate it for at least 2 hrs for best taste result.
THREAD. Place the marinated meat on skewers and prepare the griller.
SERVE. Transfer to a serving platter and serve with your preferred sauce or vinegar. Enjoy!
Makes 8 servings
Serving size: 2 sticks (89 grams)
Cooking Tips
Pork should have a minimum thickness of ¾ to 1 inch because if the cuts are thinner than this, it is easy to overcook the meat, causing it to dry out during grilling.
Product Used