THAI STIR-FRY EGGPLANT RECIPE
AJINOMOTO® BRAND GINISA FLAVOR SEASONING MIX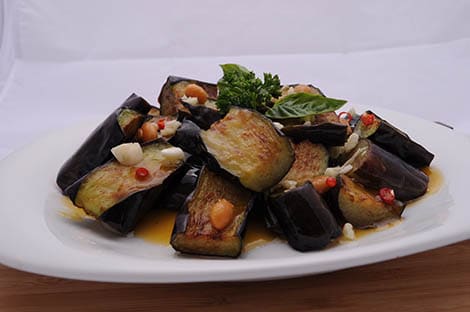 Ingredients
2 tablespoons cooking oil
3 cups eggplant, medium-size, cut into 2-inch rectangles
2 pieces chillies, red, minced
3 cloves garlic
1 cup basil leaves
1 tablespoon cornstarch
3/4 cup water
1 tablespoon soybean paste
1 teaspoon soy sauce
1 pack (7 grams) AJI-GINISA® Flavor Seasoning Mix
NUTRITION INFORMATION
Nutrition Facts
Calories per Serving (kcal)
98
Carbohydrates (g)
14
Proteins (g)
2
Fat (g)
8
Good to Know Nutrition Facts!
Eggplant is a very good source of dietary fiber, Vitamin B1 and copper. It is a good source of manganese, vitamin B6, niacin, potassium, folate and Vitamin K. Eggplant also contains phytonutrients such as nasunin and chlorogenic acid.
Preparation and Cooking time: 10 minutes
Procedure
STIR-FRY. In a hot wok, heat cooking oil then stir-fry eggplant until light brown. Add chillies, garlic and sauté
SIMMER. Add slurry, soy sauce, and AJI-GINISA® and let it simmer until sauce thickens.
MIX and SERVE. Add soy bean paste and basil leaves, mix well and serve.
Makes 3-4 servings
Serving size: 2 cups (200g) Eggplant
Cooking Tips
Do not over stir the eggplant, this will prevent it from bruising too much hence a better and firmer texture.
Product Used