TINOLANG MANOK RECIPE
AJI-NO-MOTO® UMAMI SEASONING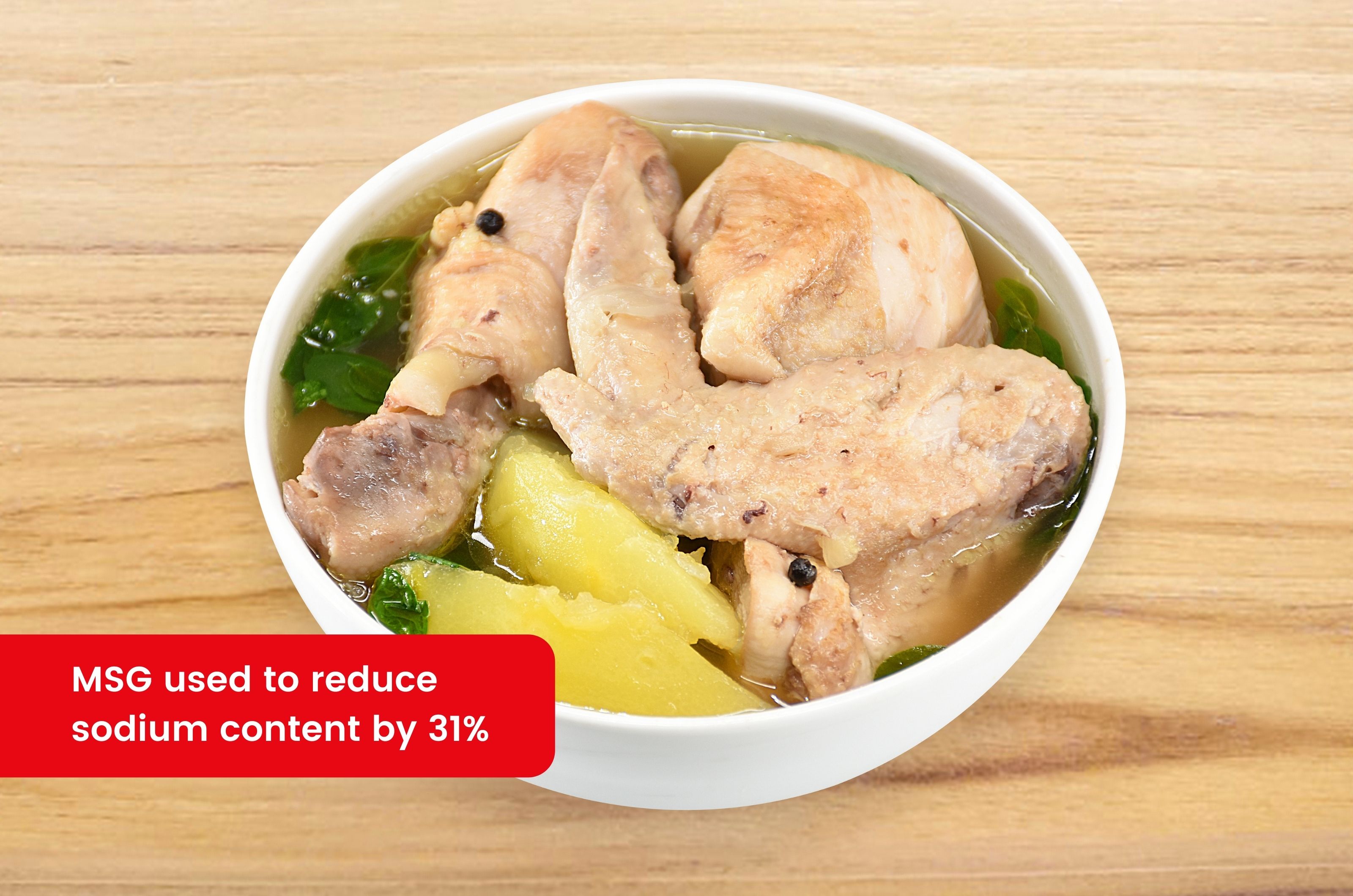 Ingredients
1 teaspoon (5ml) Cooking oil
4 teaspoons (20g) Onion, chopped
1/2 cup (62.5g) Ginger, crushed
2 teaspoons (10g) Garlic, minced
1/2 kilo (500g) Chicken, quartered
4 cups (1000ml) Water
2 cups (350g) Papaya, unripe, biased cut
1 cup (20g) Chili leaves
1/2 pack (5.5g) AJI-NO-MOTO® Umami Seasoning
1 teaspoon (2.5g) Peppercorn
5 teaspoons (25ml) Fish sauce
Reduced sodium by 31%
Original sodium content: 1/4 cup (60 ml) Fish sauce
NUTRITION INFORMATION
Nutrition Facts
Calories per serving
188.2
Carbohydrates (g)
6.5
Proteins (g)
21.3
Fat (g)
8.6
Dietary Fiber (g)
1.2
Calcium (mg)
69.3
Iron (mg)
2.4
Sodium (mg)
398.9
Good to Know Nutrition Facts!
Malunggay helps in strengthening the bones, nails and teeth especially of growing children and older people due to its high Calcium content.
Preparation time: 5 minutes
Cooking time: 15 minutes
Procedure
SAUTÉ. In a wok, heat oil and sauté onion, ginger and garlic until fragrant. Add Chicken and sauté for 1-3 min
BOIL. Add water and let it boil until meat is tender.
SIMMER. Add papaya and cook for another minute. Lower the fire, add chili leaves and simmer for a few seconds.
SEASON with AJI-NO-MOTO® and peppercorn. Add fish sauce to taste and mix well. Serve and enjoy.
Note: Fish Sauce from original recipe is equal to 4 tablespoons.
Makes 6 servings
Serving size: 2 matchbox size (60g), 1/2 cup (40g) vegetables & soup
Cooking Tips
Avoid buying chicken with a stiff meat or if it doesn't spring back to its original shape when pressed with your finger. This means that the chicken is old and not fresh at all.
Product Used