TOFU SISIG
SARSAYA® OYSTER SAUCE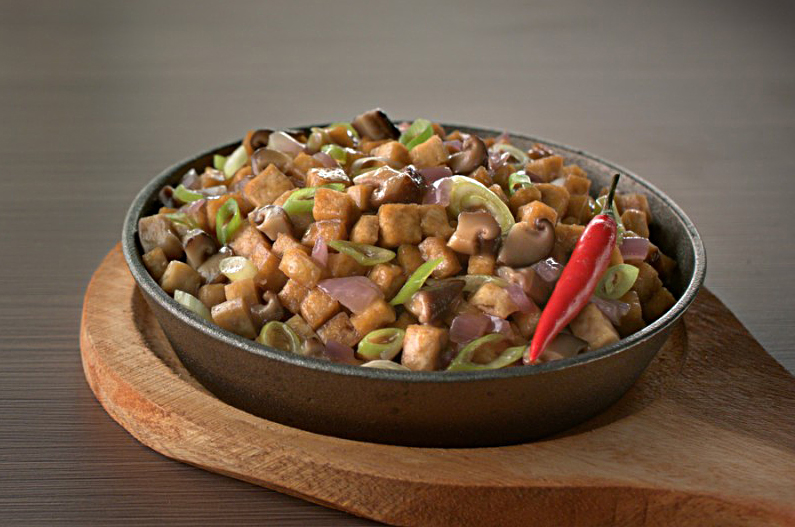 Ingredients
Cooking oil, for deep frying
1 cup (160g) Tofu, cubed
2 Tbsps. (30g) Margarine
1/2 cup (80g) Red onion, chopped
1/2 cup (80g) Shiitake mushroom, diced
1 pack (30g) SARSAYA® Oyster Sauce
2 tsps. (5g) Ground black pepper
1/2 cup (20g) Scallions, chopped
Red chili (optional)
NUTRITION INFORMATION
Nutrition Facts
Energy (kcal)
217.3
Carbohydrates (g)
6.3
Proteins (g)
3.5
Fat (g)
19.8
Dietary Fiber (g)
2.0
Calcium (mg)
69.2
Iron (mg)
1.6
Sodium (mg)
344.3
Preparation time: 15 minutes
Cooking time: 40 minutes
Procedure
DEEP- FRY. In a pan, heat oil. Deep-fry tofu until golden brown. Drain and set aside.
SAUTÉ. In a pan heat margarine. Saute onion, fried tofu, and mushroom for a few minutes. Add SARSAYA®️ Oyster Sauce and pepper. Mix well and cook for another minute.
SERVE. Transfer to a serving plate, garnish with scallions and red chili (optional). Serve and enjoy.
Makes 5 servings
Serving size: 1/3 cup (80g)
Product Used