TUNA PIE RECIPE
AJINOMOTO® BRAND GINISA FLAVOR SEASONING MIX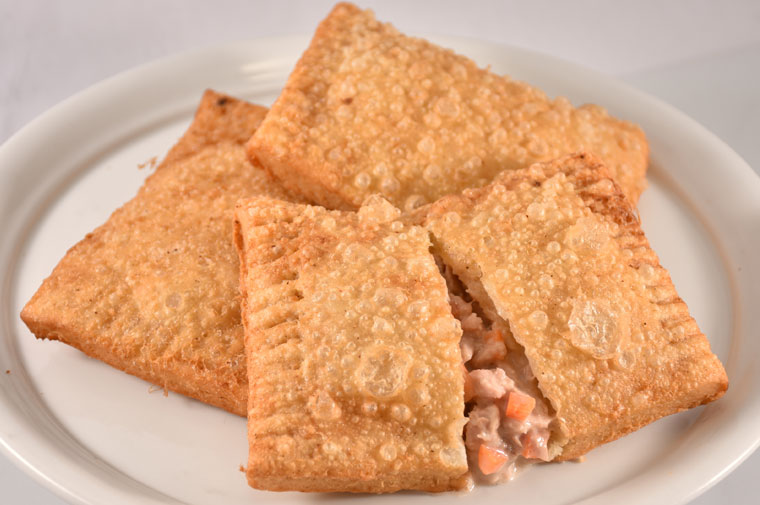 Ingredients
Dough (Crust)
1 cup (141 grams) All purpose flour
1/8 cup (28 grams) Sugar, white
1/2 teaspoon (1 gram) Cinnamon powder
1/2 teaspoon (1 gram) Salt, rock
4 tablespoons (57 grams) Butter, cold unsalted
2 tablespoons (30 ml) Oil, palm
3 tablespoons (45 ml) Water
Filling
1 tablespoon (15 grams) Butter, unsalted
2 cans (214 grams) Tuna flakes in oil, canned, drained
3/4 cup (105 grams) Carrots, minced
1 pack (7 grams) AJI-GINISA® Flavor Seasoning Mix
1 teaspoon (4 grams) Pepper, ground
1 teaspoon (5 ml) Lemon Juice
2 tablespoons (34 grams) Mayonnaise
Egg wash
1 piece (57 grams) Egg, beaten
2 cups (500 ml) Cooking Oil for deep frying
NUTRITION INFORMATION
Nutrition Facts
Calories per serving (kcal)
301.3
Carbohydrates (g)
15.4
Proteins (g)
6
Fat (g)
24.1
Dietary Fiber (g)
1
Calcium m(g)
31.3
Iron (mg)
1.2
Sodium (mg)
333.2
Good to Know Nutrition Facts!
Tuna is rich in Omega-3 which helps lower cholesterol levels. It is rich in potassium that helps lower blood pressure.
References: United States Department of Agriculture (USDA) – Food Composition Database, Philippine Food Composition Tables (Phil FCT) and Philippine Food Exchange List (Phil FEL)
Preparation time: 25 minutes
Cooking time: 15 minutes
Procedure
DOUGH(Crust):
1. COMBINE – all purpose flour, sugar, cinnamon powder, and salt. Cut in butter. Add oil and water. Mix well.
2. ROLL – dough into thin sheets. Cut 3.5 x 5″" sheets.Set aside for wrapping.
FILLING:
1. SAUTÉ – tuna and carrots in butter. Season with AJI-GINISA® and pepper. Set Aside.
2. MIX – sauteed tuna, lemon juice, and mayonnaise in a bowl. Set aside.
ASSEMBLE and FRY:
1. SCOOP –  2 tablespoons  of tuna filling onto the dough. Fold dough in half. Seal edges using a fork.
2. BRUSH – pies with egg wash before frying.
3. DEEP FRY – pies for 4-6 minutes or until it turns  yellow to light brown . Serve while hot."
Makes 10 servings
Serving size: 1 pc (62.3g) Tuna Pie
Cooking Tips
Use Chunky Tuna for better texture inside the pie pockets. May add Cream or Cheese for a creamier filling
Product Used