TURMERIC FRIED RICE
AJI-NO-MOTO® UMAMI SEASONING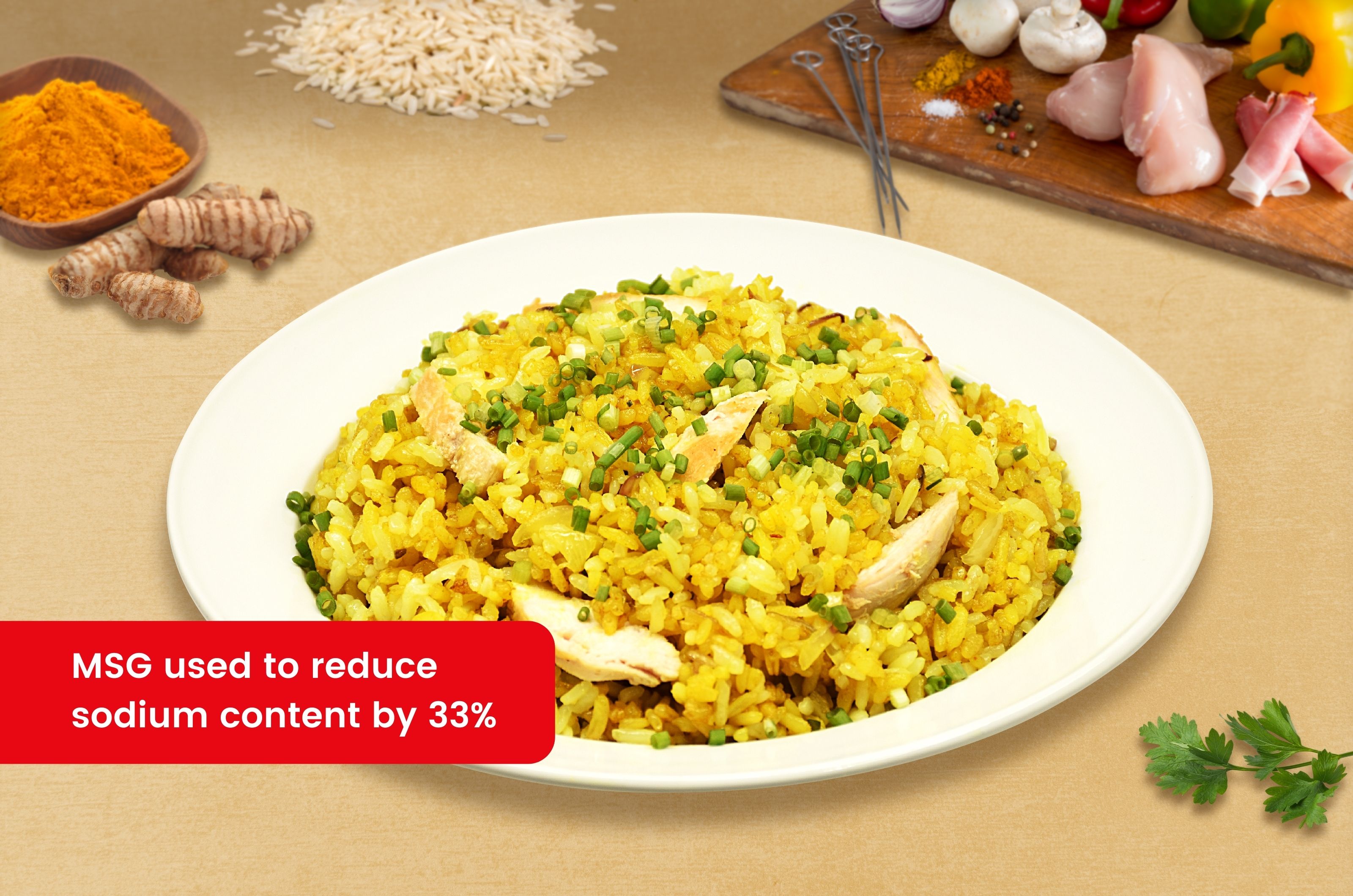 Ingredients
3 Tbsps. (45ml) Cooking oil
4 Tbsps. (60g) Red onion, chopped
2 Tbsps. (30g) Garlic, minced
1/2 cup (120g) Chicken thigh fillet, chopped
5 cups (850g) Cooked rice
2 Tbsps. (18g) Turmeric powder
1 Tbsp. (15ml) Soy sauce
1 tsp. (5g) Salt
2 Tbsps. (20g) Spring onion, chopped
1/2 pack (5.5g) AJI-NO-MOTO® Umami Seasoning
Reduced sodium by 33%
Original seasoning/condiment: 2 1/2 tsps. (12.5g) Salt, 3 Tbsps. (45ml) Soy sauce
NUTRITION INFORMATION
Nutrition Facts
Calories per serving (kcal)
226.4
Carbohydrates (g)
35.4
Proteins (g)
5.9
Fat (g)
7.1
Dietary Fiber (g)
2.9
Calcium (mg)
22.1
Iron (mg)
1.1
Sodium (mg)
360.3
Good to Know Nutrition Facts!
Turmeric contains curcumin, a substance with powerful anti-inflammatory and antioxidant properties.
Preparation time: 5 minutes
Cooking time: 15 minutes
Procedure
SAUTÉ. In a pan, heat oil. Sauté onion, garlic, and chicken. Add cooked rice and toss until fully mixed.
SEASON. Add turmeric powder, soy sauce, salt, and spring onion. Mix well. Season with AJI-NO-MOTO®.
SERVE. Scoop rice into a serving plate. Serve and enjoy.
Makes 8 servings
Serving size: 1 cup (122.5g)
Cooking Tips
Make sure to mix thoroughly in order to evenly distribute color and flavor.
Product Used