UPO, KALABASA AND SOTANGHON SOUP RECIPE
AJI-NO-MOTO® UMAMI SEASONING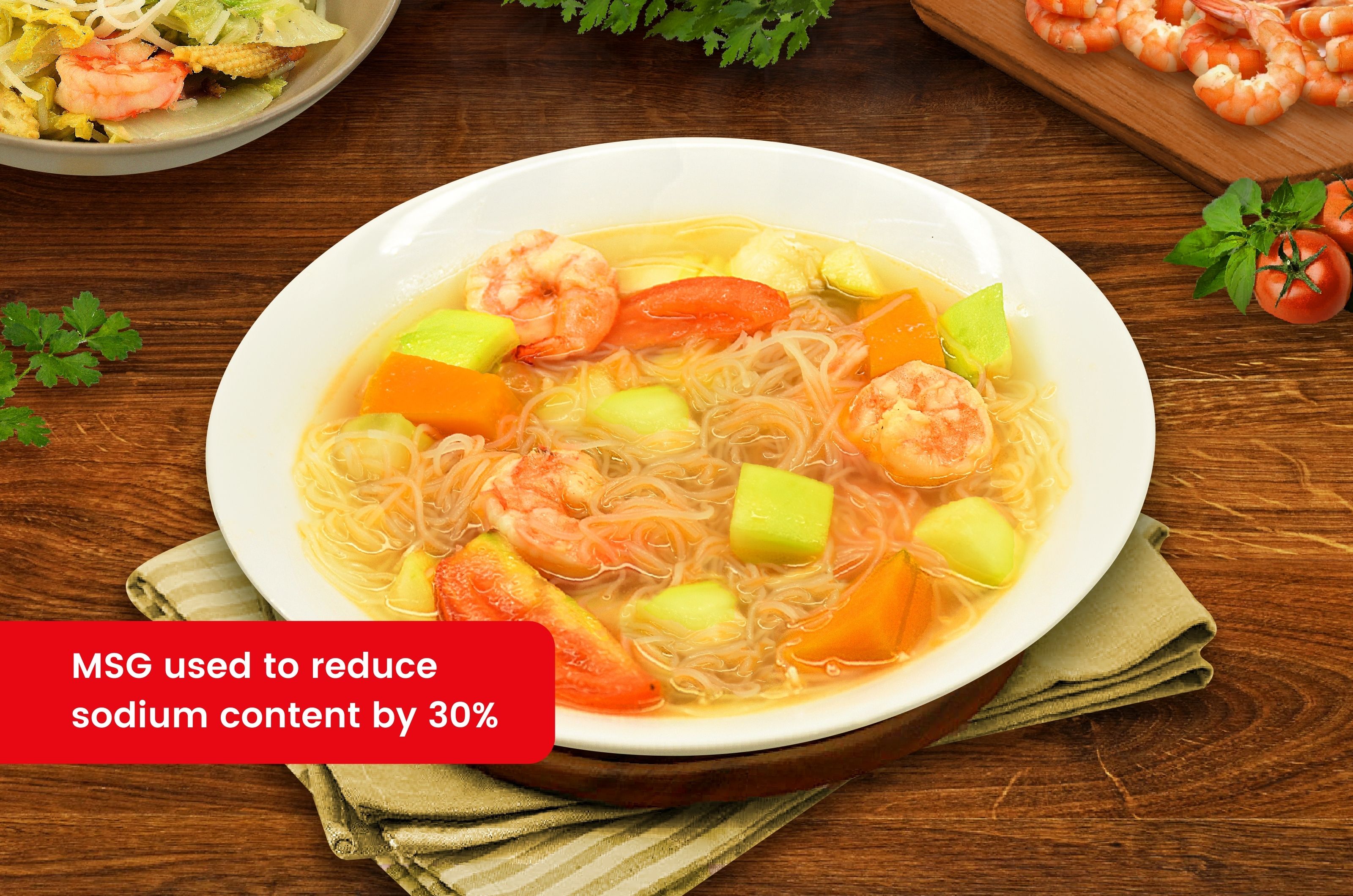 Ingredients
2 Tablespoons (30 ml) Cooking oil
1/4 cup (60 grams) Onions, chopped
1/4 cup (60 grams) Garlic, chopped
1/2 cup (120 grams) Tomatoes
1/4 kilo (250 grams) Shrimp
1 cup (200 grams) Sotanghon
1 1/2 cups (300 grams) Kalabasa
1 1/2 cups (300 grams) Upo
1 cup (250 ml) Water
1/2 pack (6 grams) AJI-NO-MOTO® Umami Seasoning
1 teaspoon (5 grams) Salt
1 teaspoon (5 ml) Fish sauce
1 teaspoon (1 gram) Pepper, black, ground
Reduced sodium by 30%
Original sodium content: 3 Tablespoons (45 ml) Fish sauce
NUTRITION INFORMATION
Nutrition Facts
Calories per serving (kcal)
155.5
Carbohydrates (g)
24.1
Proteins (g)
6.3
Fat (g)
3.8
Dietary Fiber (g)
2.1
Calcium (mg)
625.5
Iron (mg)
4.6
Sodium (mg)
287.8
Good to Know Nutrition Facts!
Eating a diet rich in vegetables and fruits as part of an overall healthy diet may reduce the risk of heart disease, including heart attack and stroke.
Preparation time: 10 minutes
Cooking time: 15 minutes
Procedure
SAUTÉ. In a pan heat oil, sauté onion, garlic and tomatoes. Add shrimp, cook for 5 minutes. Add sotanghon followed by kalabasa and upo.
SIMMER. Add water and simmer for one to two (1-2) minutes.
SEASON. Add AJI-NO-MOTO®, salt, fish sauce, and pepper. Mix well and cook for another minute.
SERVE. Transfer to a serving plate Serve and enjoy.
Makes 10 servings
Serving size: 1/2 cup (75 grams)
Cooking Tips
Put the right amount of vegetables in the pan with some room to spare around to avoid having an over cooked or under cooked vegetables.
Product Used