VEGETABLE POT PIE
AJI-NO-MOTO® UMAMI SEASONING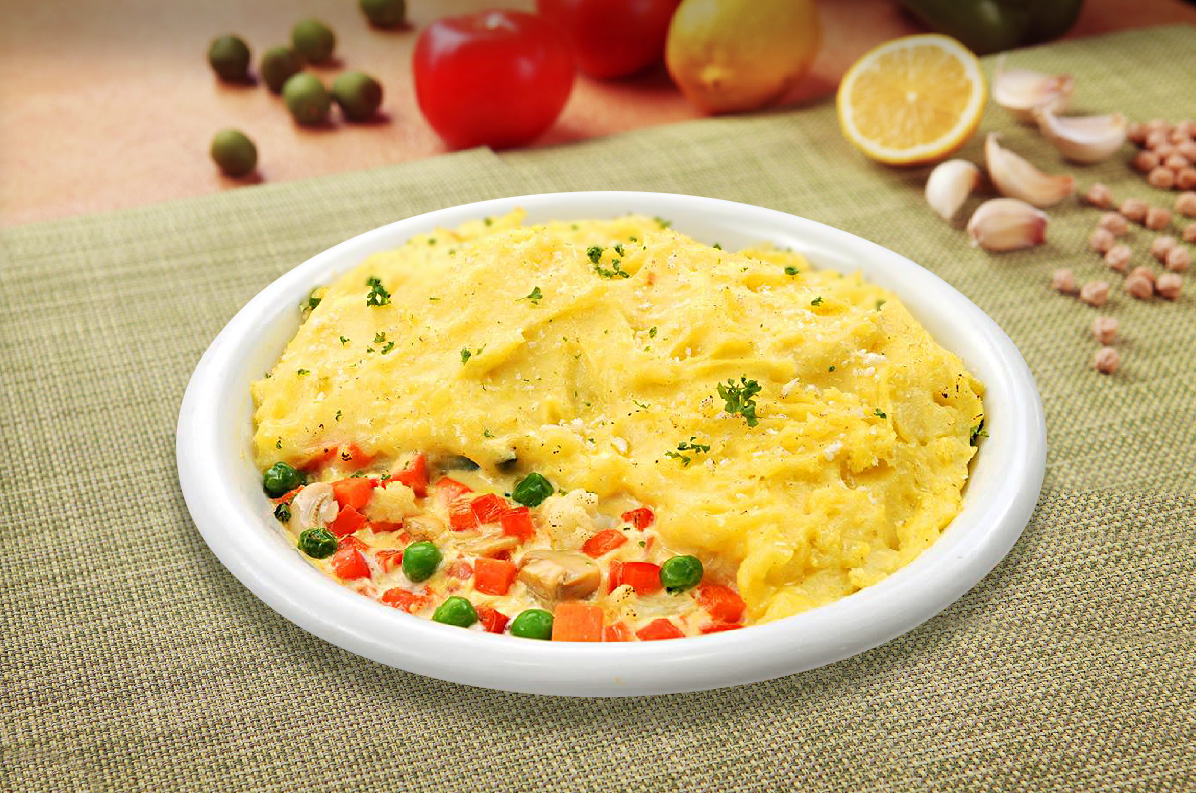 Ingredients
4 Tbsps. (60ml) Vegetable oil
1 cup (200g) Red onions, sliced
2 kgs. (2000g) Chicken breast, cut into portions
2 Tbsps. (30g) Garlic, minced
1 cup (240g) Tomatoes, sliced
1/4 cup (60ml) Tomato paste
1 pack (11g) AJI-NO-MOTO® Umami Seasoning
3 1/2 Tbsps. (51ml) Fish sauce
2 Tbsps. (30g) White sugar
2 1/2 cups (625ml) Water
1 1/2 cups (325g) Kamote, cubed
2 cups (500g) Baguio beans, trimmed
1/2 cup (120g) Canned chick peas, drained and peeled
1 1/4 cups (80g) Banana (saba), biased-cut
NUTRITION INFORMATION
Nutrition Facts
Calories per serving (kcal)
342
Carbohydrates (g)
36
Proteins (g)
20
Fat (g)
13
Dietary Fiber (g)
4
Calcium (mg)
148
Iron (mg)
4
Sodium (mg)
719
Good to Know Nutrition Facts!
Garbanzos is a Fiber-rich Protein food containing Folate which is necessary for rapid growth during pregnancy and adolescence.
Preparation time: 10 minutes
Cooking time: 20 minutes
Procedure
SAUTÉ– In a pan, heat oil, sauté onions, garlic and cook until transparent. Add chicken, tomatoes, and sear until cooked then add tomato paste. Mix well.
SEASON. Add AJI-NO-MOTO® , fish sauce white sugar. Mix well.
BOIL. Add water and let it boil then lower down to simmer. Add kamote, Baguio beans and chickpeas and let it simmer for at least 2 minutes. Add banana then cover to steam vegetables.
SERVE. Transfer into a serving bowl, serve and enjoy.
Makes 6 servings
Serving size: 1 cup (125 Filling, 89g Mashed Potato, 6g Breadcrumbs)
Cooking Tips
Avoid over cooking of the vegetables to maintain its crunchy bites.
Product Used