YangChow Fried Rice
AJINOMOTO® BRAND GINISA FLAVOR SEASONING MIX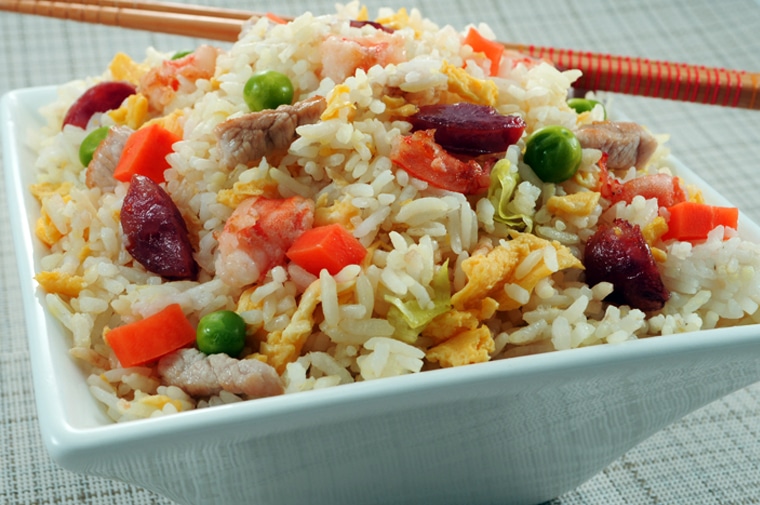 Ingredients
2 tablespoons 30ml cooking oil
1/2 cup 70g carrots, small diced
1/4 cup 35g onion, minced
1/8 cup 10g garlic, minced
1 cup 65g lettuce, shredded
1/2 cup 85g green peas
1/2 cup 70g chinese sausage, small diced
3 cups 480g rice, cooked
1/2 tablespoon 7g soy sauce
1 pack 7g Aji-Ginisa® Seasoning mix
100g pork, kasim, small diced
100g shrimp, medium diced
2 pieces 100g egg, beaten
Preparation
Preparation and Cooking Time: 20-30 minutes Makes: 4-5  servings
Serving size: 180 grams (1cup)
Procedure
PAN FRY. On a hot wok or deep pan, add 1 teaspoon oil and make a scrambled egg then set aside.
STIR-FRY. On the same wok/pan, add remaining oil and toss in the pork and chinese sausage, cook until lightly brown.
STIR-FRY. Onion, garlic, and carrot. Then, mix in the rice, shrimp, green peas, egg, and lettuce. Mix well.
SEASON. with soy sauce and Aji-Ginisa® Seasoning mix. Mix well and serve hot.
Cooking Notes
You may substitute chinese sausage with chorizo or other sausage if preferred.
NUTRITION INFORMATION
Nutrition Facts
Calories per Serving
318
Carbohydrates (g)
30.1
Proteins (g)
16.3
Fat (g)
14.7
Dietary Fiber (g)
2.0
Calcium (mg)
99
Iron (mg)
3.3
Sodium (mg)
686.60
Product Used