Aligue Rice
AJINOMOTO® BRAND GINISA FLAVOR SEASONING MIX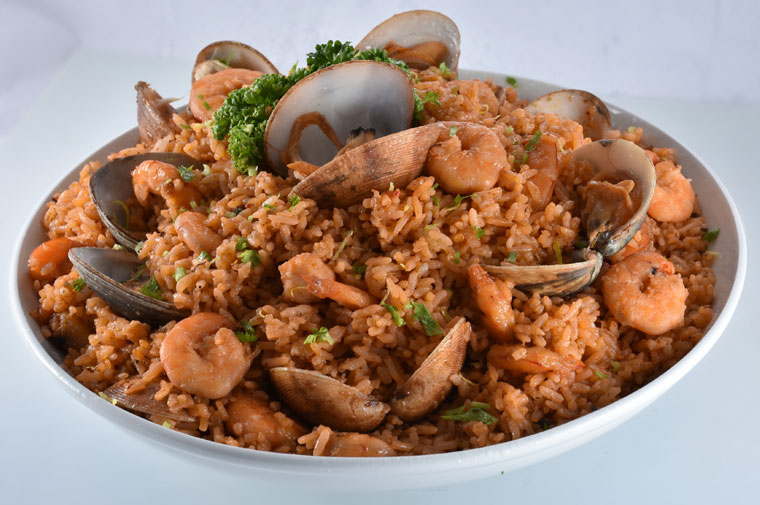 Ingredients
2 tablespoons (30g) Oil
1/2 cup (40g) Onion
1/3 cup (28g) Garlic
2 tablespoons (30g) Ginger
1/2 cup (33g) Onion Leeks
1 cup (195g) Crab Meat
1 cup (185g) Shrimp
4 tablespoons (100g) Aligue Paste
2 cups (350g) Clams (with shells)
1/4 cup (62.50ml) Water
7 cups (1400g) Rice
1 pack (7 g) AJI-GINISA® Flavor Seasoning Mix
NUTRITION INFORMATION
Nutrition Facts
Calories per serving (kcal)
230
Carbohydrates (g)
37.2
Proteins (g)
11.5
Fat (g)
4.0
Dietary Fiber (g)
1.0
Calcium m(g)
87
Iron (mg)
2.5
Sodium (mg)
453.9
Good to Know Nutrition Facts!
Take Aligue rice in moderation. Anything in excess is not good for the body.
Pinggang Pinoy® Meal Suggestions:
1 cup Aligue rice
1 pc Steamed chicken in Oyster sauce
1 cup steamed kangkong
2 pieces dalanghita or dalandan
1 glass of water
Preparation and Cooking time: 45 minutes
Procedure
SAUTÉ onions, garlic, ginger, and leeks in hot oil. SEAR crab meat, shrimp and aligue paste until cooked.
SIMMER. Add clams and ¼ cup water. Cover the pot and simmer until shells open; discard shells that remained close. Add cooked rice, mix well until completely coated.
SEASON with AJI-GINISA®.
SERVE and enjoy.
Makes 12 servings
Serving size: 1 cup (160g) Aligue Rice
Cooking Tips
For a seafood lover you may add scallops or any other clams variety.
Product Used