ARROZ ALA CUBANA RECIPE
AJINOMOTO® BRAND GINISA FLAVOR SEASONING MIX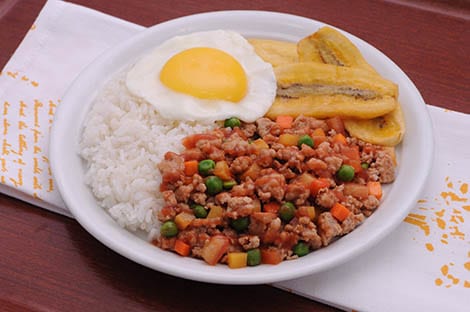 Ingredients
1 teaspoon Oil
1/4 cup Ground lean pork
1/2 piece Onion, minced
2 teaspoons Garlic, minced
1 piece Tomato, diced
1/2 cup Sweet Potato, diced
3/4 cup Carrots, diced
150 grams Green Peas
1 tablespoon Soy sauce
1/2 cup Tomato sauce
1 pack (7 grams) AJI-GINISA® Flavor Seasoning Mix
3 teaspoons Oil
6 pieces Banana, cut into three, lengthwise
6 teaspoons Oil
6 pieces Egg
to taste Salt
6 cups Rice
NUTRITION INFORMATION
Nutrition Facts
Calories per Serving
512
Carbohydrates (g)
68
Proteins (g)
20
Fat (g)
18
Dietary Fiber (g)
4.54
Calcium (mg)
111.56
Iron (mg)
9.65
Sodium (g)
432.98
Good to Know Nutrition Facts!
This highly vibrant all – in – one dish has almost reached  the 1/3 of an adult's daily requirement intake for one day. It is relatively high in calcium and iron and low in fat.
Preparation and Cooking time: 1 hour
Procedure
SEAR. Sear ground pork until fat is rendered and has slightly brown.
SAUTÉ onion, garlic, tomato, sweet potato, carrots, green peas. Add soy sauce and tomato sauce. Cook for 10-15 minutes or until done
SEASON. Season with AJI-GINISA®. Set aside once cooked.
FRY. Fry Bananas in small amount of oil. Drain excess oil in a paper towel. Set aside.
FRY. Fry egg, season with salt to taste. Set aside.
ASSEMBLE. Scoop one cup of rice for each plate. Spoon 1/4 cup of the meat mixture and place on one side of the plate. Place 3 slices of banana on one side. Top the rice with fried egg. Serve.
Makes 6 servings
Size per serving: 40 grams meat mixture, 1 piece egg, 3 slices banana, 1 cup rice
Cooking Notes
Egg in this dish can be cooked separately as sunny side-up or scrambled.
Cooks may use potato instead of sweet potato if desired. Also, corn kernels and rasins may be added to the dish as desired.
Product Used