BANH MI RECIPE
SARSAYA® OYSTER SAUCE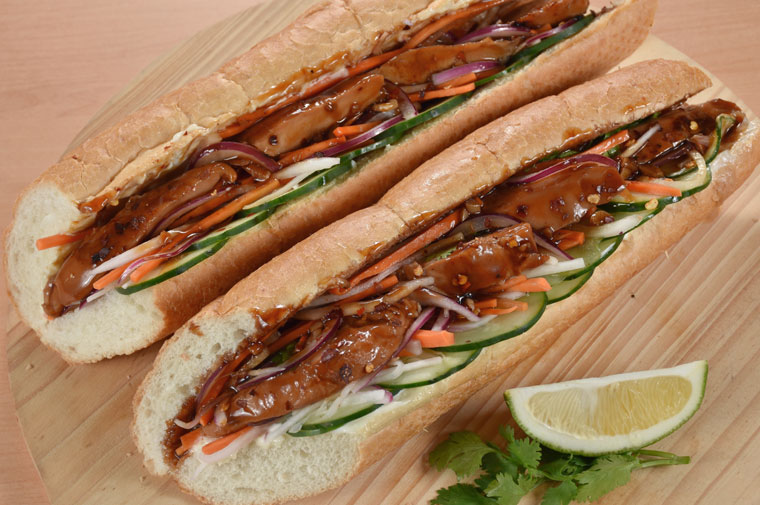 Ingredients
1/4 cup, 30ml Vinegar
1/2 cup, 120ml Water
1/4 cup, 40g Sugar,white
1/2 cup,36g Carrots, thinly sliced
1/2 cup, 50g Raddish, thinly sliced
1/4 cup, 28g Onion, thinly sliced
1 cup, 288g Chicken breast, sliced
1 tablespoon, 15g Garlic, minced
3/4 cup, 156ml SARSAYA® Oyster Sauce
1 pc, 250g Baguette, whole
4 tablespoons, 60g Mayonnaise
1/4 cup, 52g Cucumber, thinly sliced
1 tablespoon, 5g Chili Flakes
1 slice, 24g Lime, sliced
NUTRITION INFORMATION
Preparation and Cooking time: 1 hour
Preparation
BOIL vinegar, water and sugar , stir until sugar is completely dissolved. Set aside.
POUR the cooled vinegar mixture over the carrots, radish and onion. Allow to stand for at least 30 minutes. Set aside.
MARINATE chicken with minced garlic and SARSAYA® Oyster Sauce for at least 30 minutes and pan fry it with the sauce until tender . Set aside
ASSEMBLE baguette by cutting into halves, spreading mayonnaise evenly on both sides of the baguette. Add pickled vegetables, chicken and cucumber .Sprinkle chili flakes and drizzle with lime juice.
SERVE and enjoy!.
Makes 2 servings
Serving size: 1 pc (125g) Baguette, 1/4 cup (57g) Pickled Vegetables, & 1/2 cup (120g) Chicken
Cooking Tips
Unlike most sandwiches, main ingredients here is not the meat but fresh vegetables .Use crucnchy and colorful vegetables for your own version of Banh Mi.
For other choices of Protein filling, you can use either chicken pate', shrimp or pork skins.
Product Used