BEEF AND BABY CORN STIR FRY RECIPE
AJINOMOTO® BRAND GINISA FLAVOR SEASONING MIX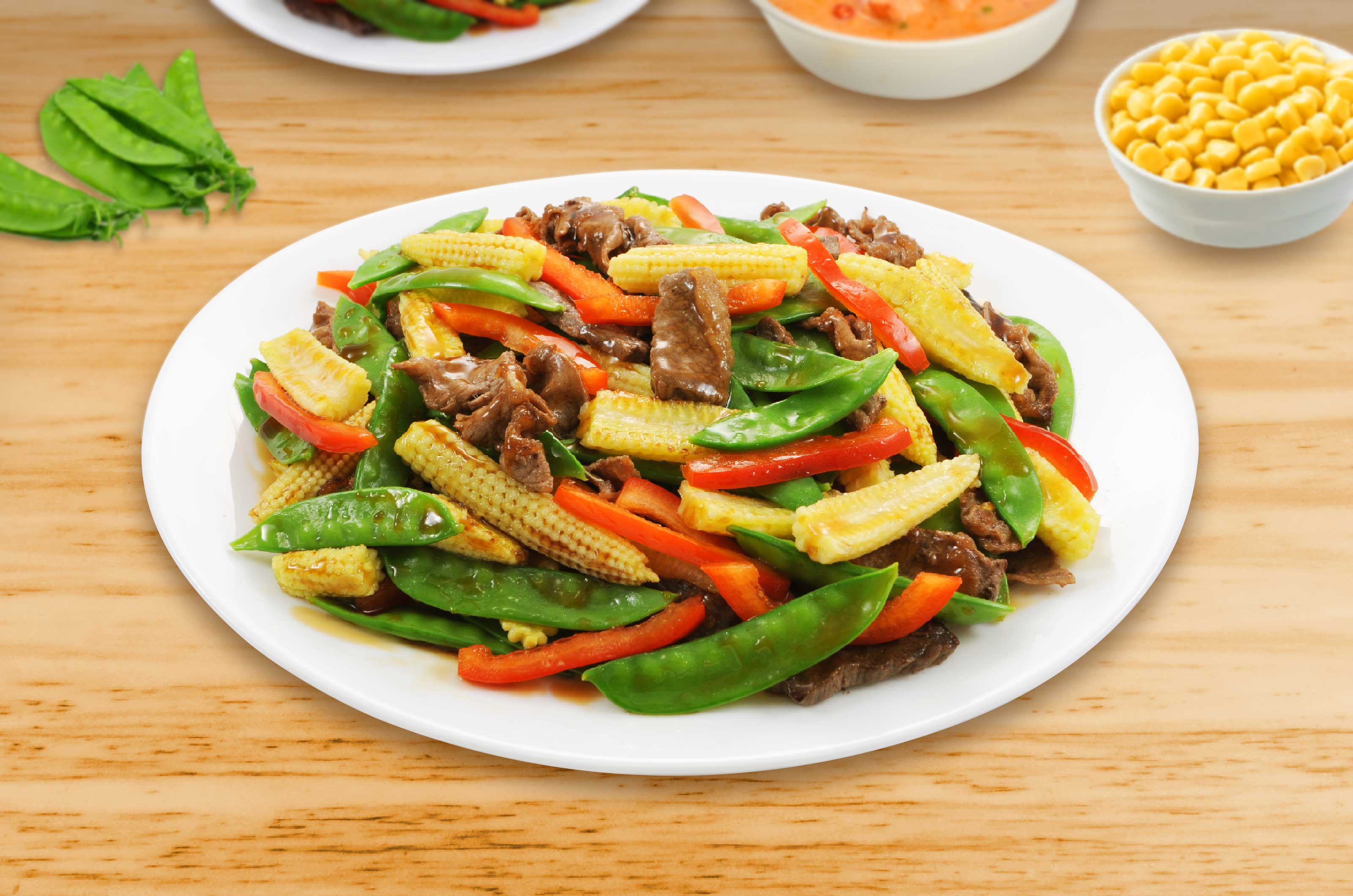 Ingredients
1/4 cup (50ml) soy sauce,light
1/4kg, (250g) beef tenderloin, strips
1 Tablespoon (15g) rice wine
2 teaspoons (10g) oyster sauce
2 teaspoons (10g) sugar, brown
1/4 cup, (35g) onion, red, minced
5 cloves (10g) garlic, minced
2 Tablespoons (30ml) cooking oil
1 1/2 cup (250g) baby corn, biased
1 1/2 cup (150g) snap peas, trimmed
1/2 cup (100g) red bell pepper, sliced
1/4 cup (60ml) water
1 teaspoon (4g) cornstarch
1 pack (7g) AJI-GINISA® Flavor Seasoning Mix
NUTRITION INFORMATION
Nutrition Facts
Calories per serving (kcal)
181.4
Carbohydrates (g)
11.7
Proteins (g)
14.2
Fat (g)
8.3
Dietary Fiber (g)
2.3
Calcium (mg)
68.8
Iron (mg)
2.4
Sodium (mg)
636.6
Good to Know Nutrition Facts!
Corn is higher in Protein than many other vegetables, making it a good choice for vegetarians and vegans, or for people hoping to eat more Protein from non – animal sources.It is also a good source of Fiber that helps in digestion and reduce the risk of constipation.
Preparation time: 10 minutes
Cooking time: 20 minutes
Procedure
MARINADE. On a mixing bowl, combine all ingredients and let the beef marinade for at least 1 hour
MIX. On a small bowl, mix in water and cornstarch to make a slurry.
STIR-FRY. On a hot wok, add oil and saute onion and garlic. Then, add in red bell pepper. Next, add baby corn and snap peas. Stir-Fry the vegetables until almost done. Set aside. On the same wok, add the beef mixture and let it cook until tender. Mix in the vegetables and slurry. Stir well.
SEASON. with AJI-GINISA®, mix well.
SERVE. Transfer in a serving plate, serve and enjoy.
Makes 5 servings
Serving size: 1 cup (150g)
Cooking Tips
Store uncooked corn in the refrigerator to keep its freshness prior to cooking.
Product Used