BEEF STEAK ROLL UPS RECIPE
AJINOMOTO® BRAND GINISA FLAVOR SEASONING MIX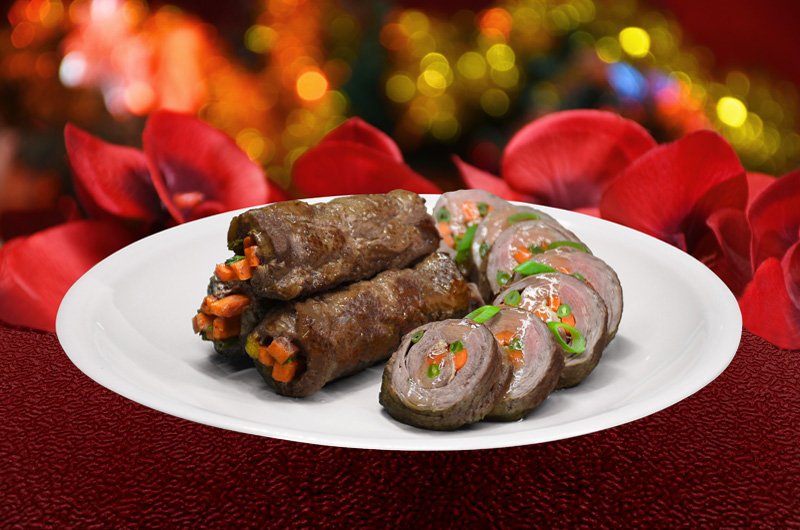 Ingredients
1/2 kg 500g Beef Sirloin, sliced
1 pack 7g AJI GINISA® Flavor Seasoning Mix
3 Tbsps 45g Carrots, strips
3 Tbsps 45g French Beans, strips
3 Tbsps 45ml Cooking Oil
3 Tbsps 45g Butter
3 Tbsps 45g Flour
1 cup 250ml Water
3 Tbsps 45 ml Soy Sauce
NUTRITION INFORMATION
Nutrition Facts
Calories per serving
325.5
Carbohydrates (g)
9.7
Proteins (g)
22.3
Fat (g)
22.1
Dietary Fiber (g)
0.8
Calcium m(g)
43.7
Iron (mg)
3.5
Sodium (mg)
567.5
Good to Know Nutrition Facts!
Beef is a good source of protein and it is rich in iron.
Preparation time: 20 minutes
Cooking time: 1 hour 20 minutes
Procedure
ASSEMBLE. On a countertop, place beef slices. Top with carrots and french beans. Season with                        AJI GINISA®.
ROLL. Roll beef slices tightly and secure it with kitchen twine.
CHILL. Place rolls in a refrigerator to chill and firm it up.
SEAR. In a pan, heat oil. Sear beef rolls until it turns brown. Remove beef rolls from the pan. In the same pan, add butter and flour, mix until fully incorporated. Add water and soy sauce. Mix well. Add beef slices and cook for another 20 minutes.
SERVE. Serve and enjoy.
Makes 12 servings
Serving size: 1pc (120g) meat roll + 1/4 cup (75ml) sauce
Cooking Tips
Do not burn butter to avoid bitter after taste.
Product Used